Someone Was Stealing Her Cat's Food — Then She Caught Him In The Act
"She just thought our cat was eating more."
At first, Love's owner had no idea there was even a thief afoot.
Each evening, the cat's owner leaves out a hearty bowl of cat food for Love on their covered patio, just in case her dear kitty gets hungry in the night. Up until recently, the bowl would only be short a few nibbles at most by morning — but then that suddenly changed.
"About two weeks ago, my mom noticed that the food was disappearing faster than usual," Twitter user Katfarr1 told The Dodo. "She just thought our cat was eating more."
As it turns out, that was not the case. Someone else was coming along to get their fill.
Twitter/katfarr1
Recently, Katfarr1's mother walked out onto the patio and discovered precisely who that someone was.
It was an exceptionally plump toad, who evidently had happened upon Love's bowl one evening and henceforth decided to become a regular visitor.
And he clearly had no shame about it.
Twitter/katfarr1
Even with Katfarr1's mom looking on, the flabby amphibian made his way to the teeming pile of food and got right down to business.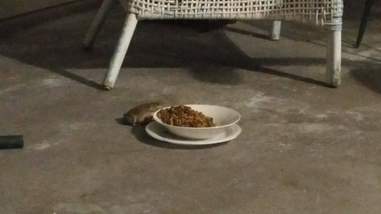 Twitter/katfarr1
Well, that explains it — unbelievable as it may be.
Here's video of the toad in action:
After getting his fill, the rotund toad then simply hopped back into the night, his belly now full of Love the cat's food.
Is he a thief? Yes, he is — but Katfarr1's mom is surprisingly understanding about it all.
Twitter/katfarr1
Rather than, say, move the cat's food bowl somewhere the toad can't reach, Love's owner has decided to accept the duty of seeing that he doesn't go hungry:
"She said she's gonna keep feeding him," Katfarr1 said, "for the fun of it."