People Are Selling Thousands Of Wild Animals On Social Media
"Facebook and Instagram have to start taking a role combatting the wildlife trade."
Three weeks ago, police from the Ministry of Environment and Forestry in West Borneo raided a home and rescued two baby orangutans. Thankfully, they came just in the nick of time. When they arrived at the scene, the orangutans were packed into small cages ready to be transported to a buyer.
A man was arrested and charged with directly trafficking wildlife and for trafficking through social media. The social media posting listed an asking price of just 3 million Indonesian rupiah ($228) for the two infant orangutans.
The orangutans, an 8-month-old female named Korwas and a 1-year-old male named Gakkum, are now at International Animal Rescue's (IAR) rehabilitation center in Ketapang, West Kalimantan. They were understandably traumatized when rescuers found them, as they had likely witnessed their mothers being killed before being ripped from their arms.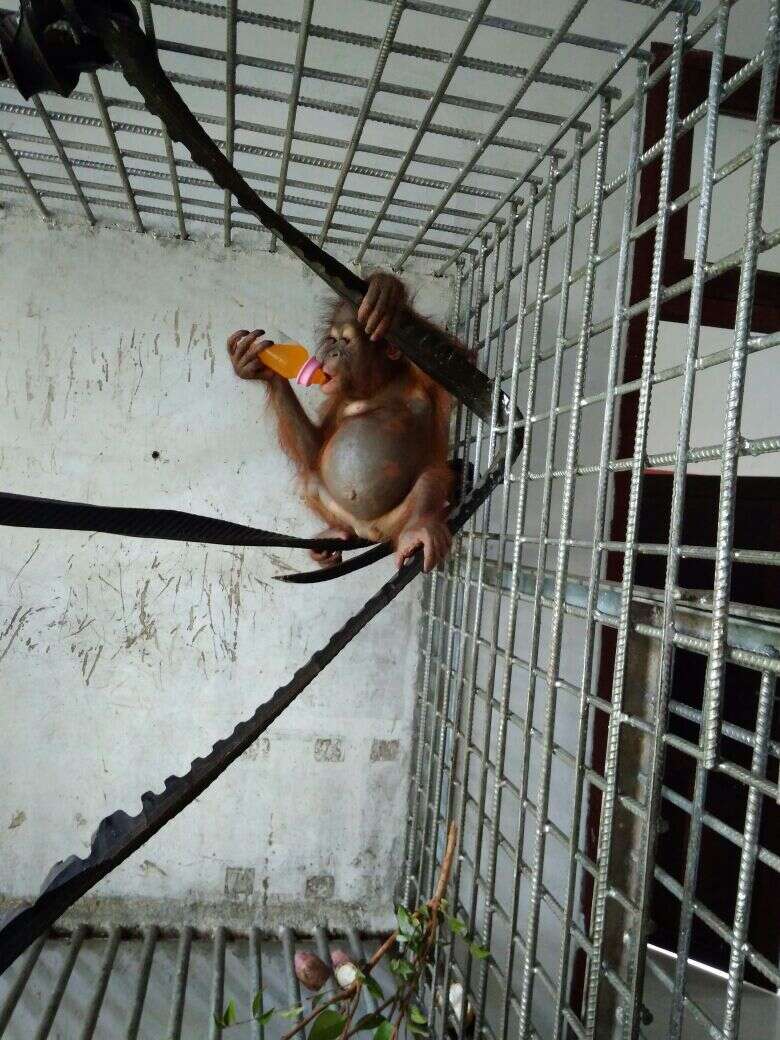 "They were dehydrated and stressed, and one of them was rocking backwards and forwards, which is a typical sign of a high level of stress that we've seen in other orangutans," Lis Key, PR and communications manager for IAR, told The Dodo.
While the orangutans are in good hands, the illegal trafficking of wildlife through social media has been a growing concern for law enforcement agencies and wildlife conservation groups.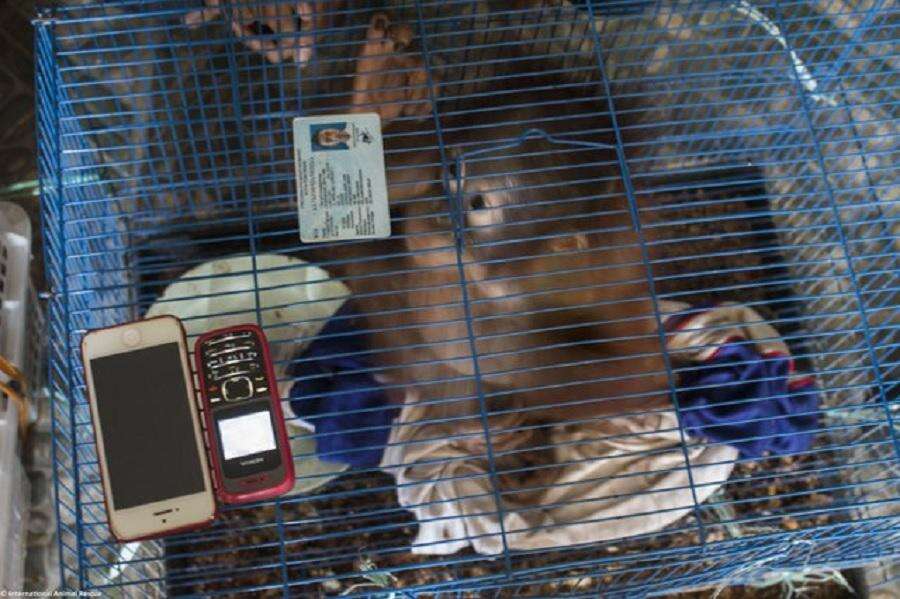 People across the world use social media to sell millions of items every day — but the way these networks are set up create an opportunity for black market suppliers. This has proven to be a persistent problem in the control of the illegal wildlife trade, as wildlife traffickers and syndicates flock to social media platforms, like Facebook and Instagram, to sell protected animals with relative anonymity and discretion.
"In the last year, there's been a tendency for all wildlife traffickers to start using online social networks for their illegal activities," Karmele Llano Sanchez, program director at IAR Indonesia, told The Dodo. "It is less risky, because they don't have to be present with the animals and can do all the transactions online. Most of the time, like in this case [Gakkum and Korwas' rescue], the trader didn't really know the supplier ... So, it's an easy way for them to basically sell these animals to the public without taking the risk of being caught."
While this incident happened in Indonesia, it reflects a global problem, Sanchez said. Wildlife traffickers' shift to social media sites is a phenomenon that's been monitored by the Wildlife Trade Monitoring Network (TRAFFIC) for several years.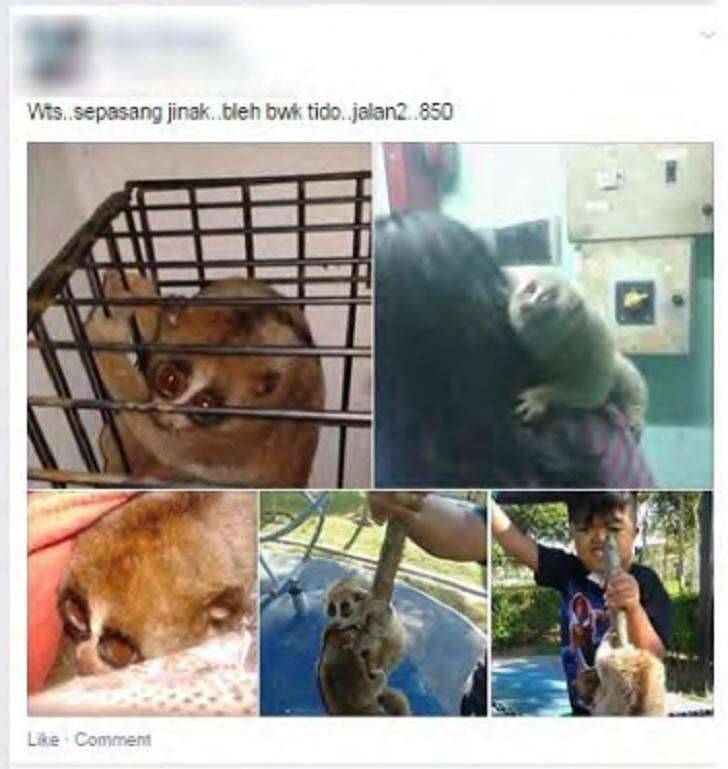 A 2015 TRAFFIC report, which examined China's illegal online trafficking since 2006, found a substantial drop in the number of advertisements for illegal wildlife products, especially ivory, being sold on e-commerce websites (think eBay) as these sites began to crack down on sellers.
While these changes marked a step in the right direction, a subsequent TRAFFIC study found that traffickers were simply moving their operations to social media platforms to counter the e-commerce blockades. With that shift came an entirely new set of challenges.
Malaysia, for example, doesn't have physical markets where people can buy trafficked animals, unlike most of Southeast Asia — so the social networks create an entirely new venue for wildlife trafficking.
"The demand for these animals has always existed in Malaysia but it's never really had an outlet to flourish, whereas the internet and Facebook seems to be providing that platform to enable the trade to happen in this manner," Sarah Stoner, a member of TRAFFIC, told the BBC in 2016.
As part of its research, TRAFFIC monitored 14 Facebook groups for five months in Malaysia alone — the majority of them were "closed" groups and they had a total of 67,532 members.
Within this five-month period, researchers identified 106 sellers, 236 posts indicating illegal activity, 80 species and a total of 380 live animals for sale. Nearly half of the animals involved were protected species under Malaysia's 2010 Wildlife Conservation Act. Based on the report, 11 arrests were made and 68 animals were seized.
The man arrested in the case of Gakkum and Korwas was a 19-year-old male, who admitted to smuggling other species in the past, including a gibbon, Key said. He'll face a maximum sentence of five years in prison and/or a fine of 100 million rupiah, or roughly $7,400 — but the maximum sentence is hardly enforced.
"The reality is that the highest penalty that we know is between five months and three years, and usually just a few million rupiahs," Sanchez said. "In my knowledge, never anything over 10 million rupiah [$740]."
Because of the relatively mild punishment, there is a high rate of recidivism among wildlife traffickers. "We don't really believe the punishment is in accordance with the crime," Sanchez said.
She believes the problem won't be solved until social media sites block these traffickers altogether.
In response to TRAFFIC's report on social media trafficking in Malaysia, Facebook released this statement: "We are committed to working with TRAFFIC to help tackle the illegal online trade of wildlife in Malaysia. Facebook does not allow the sale and trade of endangered animals and we will not hesitate to remove any content that violates our Terms of Service."
​​​​​​​Despite that statement, getting Facebook to cooperate hasn't been so easy, Sanchez said. "Facebook and Instagram have to start taking a role combatting the wildlife trade because it's an illegal activity," she explained. "We find it extremely difficult for [us to get Facebook and Instagram] to respond to our claims or to delete these postings."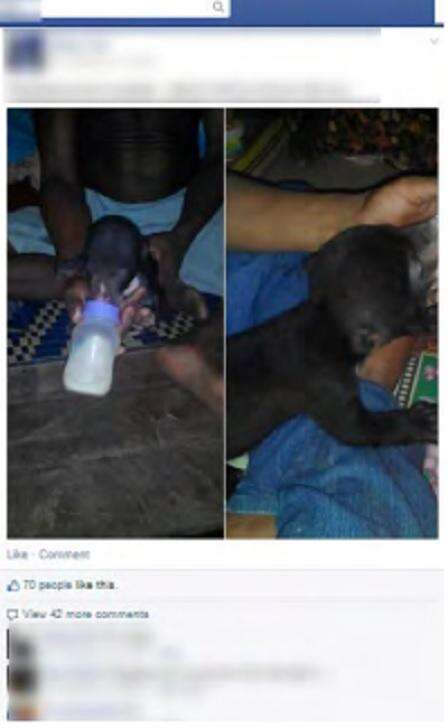 Sanchez hopes one day social media networks will help educate the public as well. "There are also some people who are not so knowledgeable about wildlife, they might not even know that these animals are protected or it is illegal to keep them because they see them on Facebook platforms and they think are legal," she said. "So, this encourages people to want to have wildlife as pets. I think this is a huge problem that I really hope Facebook or Instagram will want to collaborate with us to tackle these problems."
While there is still work to do, Gakkum and Korwas' rescue is a major success in the fight against social media trafficking. The two baby orangutans are doing better at IAR, and are eating well, Sanchez said. They will remain in quarantine for the next few weeks, but they have a long road ahead of them. They will live at the center for the next seven or eight years as they learn to survive on their own in the wild.
Without monitoring social networks, this rescue would have never been possible. "We're really delighted that they were successful in this instance," Key said. "Hopefully it will send out a strong message to others that they can't hide, they will be uncovered and they won't get away with it."
You can help support the research TRAFFIC is doing
by donating
. To help IAR rehabilitate Gakkum and Korwas,
donate here
.