Wild Squirrel Visits Her Human Best Friend Every Single Day
"She wasn't hungry at all. She just sat in front of me, looking into my eyes."
Many good friendships are based on a shared love of food — and that's particularly true for Luz Carime Bersh.
Five years ago, Bersh began setting out peanuts for the squirrels who frequent the courtyard of her apartment in Florida. One day a few weeks later, the smallest squirrel of the group walked right up to her balcony door, peeking in to see if anyone was home.
It was the start of a very special friendship. Bersh nicknamed the little squirrel Grisnelda, and began seeing her every day.
"Grisnelda started coming every day and she often made her appearance looking through the glass door," Bersh told The Dodo. "It was as if she were telling us: 'Hello! I'm here!' As soon as I saw her, I responded, 'Grisnelda!' and she ran to the door to wait for me."
Over the next year, Bersh and Grisnelda met nearly every day to spend time with one another. Sometimes it was outdoors in the courtyard, while other times Grisnelda met Bersh on her balcony. But one day, Grisnelda decided to venture inside Bersh's home.
"She walked into the apartment and crawled onto my knee," Bersh said. "Since then, she came inside often and made herself at home, exploring the kitchen and even walking to the dining room while we were eating. It was like she was inviting herself to join us for breakfast. And she did."
Unlike all the other squirrels, who remained wild, Grisnelda was as interested in Bersh's company as she was in the food. The two began meeting nearly every day to eat lunch together; Bersh would eat a sandwich, while Grisnelda sat on her knee and snacked on fruit or nuts.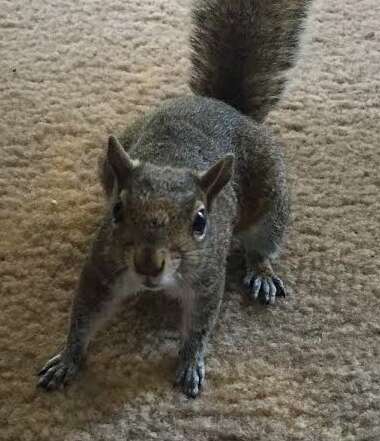 "Then she went back to her home taking snacks to go," Bersh said. "This certainly always happened when she had babies. She's had at least 4 litters."
After two wonderful years of friendship, Bersh got the news that she would need to move temporarily to Georgia for work. Because of how special her relationship with Grisnelda had become, Bersh was heartbroken.
"I had become so emotionally attached to Grisnelda, I actually thought about taking her with me," Bersh said. "However, I knew I couldn't betray her trust and I had to respect that she belonged to the wilderness. I would never take away her freedom even if it broke my heart. I knew I would probably never see her again."
With a heavy heart, Bersh packed her belongings and relocated to Georgia. Her boyfriend, however, was still in Florida — so he made sure to still keep a careful eye on Grisnelda in Bersh's absence. When Bersh returned seven months later, her special friend was there waiting for her as if no time had passed.
In November, Bersh was met with a devastating loss. Her dog, Rosie Pink, passed away after 16 years — and Bersh was left with a feeling of emptiness like no other. When she walked out to the lake near her apartment complex to clear her head, she spotted Grisnelda perched up in a palm tree, looking down at her.
"I was bawling with grief and, looking up the tree, I told Grisnelda that Rosie Pink had died and I was very, very sad," Bersh said. "Then I left and sat by the lake, crying my eyes out. A couple of minutes later, Grisnelda joined me. She wasn't hungry at all. She just sat in front of me, looking into my eyes, motionless, for a good 15 minutes until her eyes started drooping and I realized she was falling asleep. I thanked her for her company and told her it was OK for her to go to bed. We said good night and she went home."
The next day, Grisnelda came by to visit Bersh — yet, like the day before, didn't seem interested in food. She just stayed by Bersh, looking into her eyes with understanding.
The little squirrel seemed to know Bersh needed her — and after all, that's what friends are for.
"She didn't have any interest in anything other than being fully present with me," Bersh said. "I think that she really knew I was hurting and, like any good friend, she was keeping me company to comfort me and show her sympathy. That touched my soul deeply."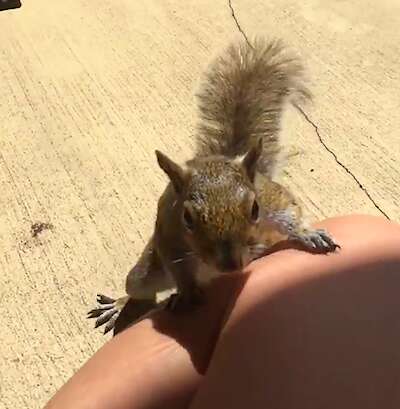 Now, in 2019, Bersh and Grisnelda still have such a cherished friendship. Grisnelda has even introduced Bersh to her most recent litter of babies.
Over the years, so many things have changed in both of their lives — but today, one thing still remains the same. They mean so much to each other.
"She always runs to greet me with such excitement," Bersh said. "I am always looking forward to meeting with Grisnelda every day. It's my special time, when my heart feels fully content. I'm so grateful for having such a special friend in my life."