Playful Wild Orca Steals An Entire Boat
"Our boat was not where we left it ... We were in complete shock."
Earlier this week, newlyweds Kendra Campbell and her husband Dan drove to the marina in Comox Valley, in British Columbia, Canada, to check on their sailboat. When they gazed out into the harbor, Dan told his wife he couldn't see their mast over the breakwater.
"I told him he was nuts as of course it's there," Kendra Campbell told The Dodo. "We then got into our tender [small boat] … and headed out into the harbour. Our boat was not where we left it anchored. We both looked at each other … and did not know what to think. I covered my mouth with my hand as I was so confused, and we kept looking at each other."
The Campbells have only had their boat for about a year, and they both started to panic.
"We did the right amount of anchor line as we were supposed to, so it should not have dragged," Kendra Campbell said. "He [my husband] kept going over things in his mind."
After several agonizing minutes, they finally spotted their mast behind a large metal sailboat — and a couple onboard the large boat flagged them over.
The couple explained to the Campbells that they'd seen their boat moving without anyone on board, and then the two boats collided. They eventually figured out what had happened — a wild orca had grabbed the anchor line and taken the Campbells' sailboat around the harbor for a joyride. The whole incident was caught on video by an onlooker.
"We were in complete shock," Kendra Campbell said. "We could not believe this. We were not the only boat out there — we were actually surrounded by other boats ... so how and why did he pick our boat to play with?"
The orca, who is identified by the name T73B, is well-known to the locals of Comox Valley as he often comes into the harbor to hunt marine mammals like seals and porpoises. He's part of a subpopulation of transient orcas, who mostly eat mammals rather than fish and spend a lot of time by themselves or in small groups.
T73B is also famous for being a bit of an oddball.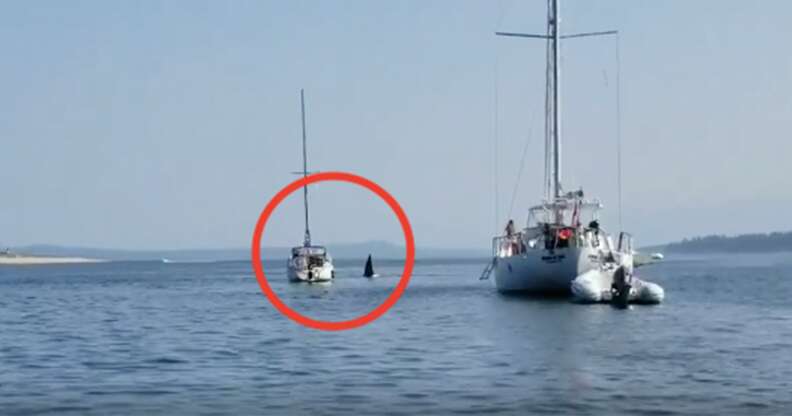 "He's a little bit of a weirdo when it comes to his diving and his behavior," Josh McInnes, a marine mammal scientist with Monterey Bay Marine Life Studies, told The Dodo. "A lot of the whale watchers have noticed that he's been doing these very long dives."
T73B has also been observed playing with crab traps in the area, which can actually be quite dangerous for orcas, who run the risk of getting tangled up in the traps. But no one has ever seen T73B — or any orca — play with an anchor line before.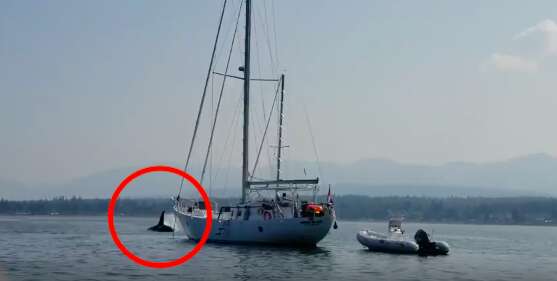 "I don't think I've ever seen an orca play with a sailboat," McInnes said. "It's definitely something that's unusual."
Luckily, T73B came out of his latest stunt just fine — although the railings on the Campbells' boat suffered a bit of damage.
"Dan called the insurance company and they were in shock ... they thought they had heard of everything [before]," Kendra Campbell said. "We will wait to hear back from them to see what our next step is."
Despite the slight inconvenience of having to get their boat fixed, the Campbells are still in awe about this close encounter with nature.
"I have grown up in the Comox Valley, which is surrounded by ocean, and I have never really been in a boat other than our BC ferries or a fishing boat once until this year," Kendra Campbell said. "This experience with this whale has been so amazing and we are so very grateful for the opportunity to be as close as we have been to this one ... but I am so glad we were not on the boat at the time!"