An unusual customer wandered into a pharmacy in Victoria, Australia, last week — over and over again.
A wild koala entered by the sliding glass doors, to the surprise of the shop's human customers.
One customer decided the moment was too good to pass up for a photo op.
"I entered the pharmacy and saw a koala in the store. I thought that this is 'cute' so I took a pic of him," the customer said. "He was then promptly shooed out of the store by a store assistant."
The customer turned back to continue shopping. But that wasn't the end of the experience.
"Upon turning around from one of the display shelves, I saw the koala trying once more to enter the store," the customer said. "So this time I filmed his determined efforts to try and bypass customers until his attempts were once more blocked and he was ushered out of the store into the rear supermarket car park."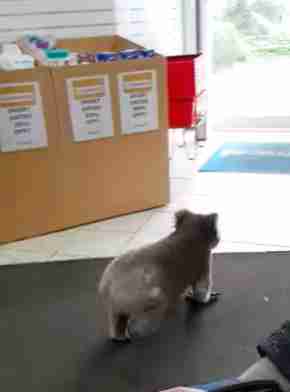 And yet, again, the determined little fur-ball decided he wasn't through with his errand.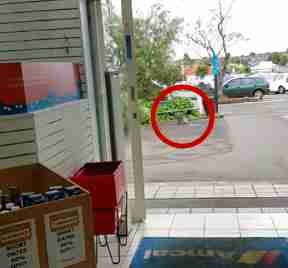 "The third time, I heard a commotion from the customers and turned around and once more, I saw this little fellow doing all he could to get through the store out onto the front street," the customer said. "He did manage to get right through the store to the front entrance. He was, however, detained by the pharmacy girls once more, right at the front window display, very close to the front entrance, where there is usually lots of street traffic."
Thankfully, people were looking out for the wild trespasser. They found a box to put over him to help him stay in one place while wildlife officials came to his rescue.
Soon enough, the experts came and escorted the koala to a nearby forest. Koalas have a healthy population in this region of Australia, but in other regions they aren't so lucky. Habitat loss and fragmentation because of human developments threaten many koala populations across the country. Heat waves related to climate change, too, threaten the health of many koalas.
This guy, though, seemed healthy enough to go right back to the wild, after giving people on their normal everyday errands something extraordinary to remember.
"I know that I myself, customers and staff certainly had an interesting time with this cute little fur-ball," the customer said.