Wild Horse Has Best Reaction To Seeing Mate He Thought He'd Lost
"He immediately put his nose to her belly as if he knew she was carrying his baby."  
Something beautiful just happened on a sprawling sanctuary for horses in Oregon — and so many people worked so hard for this moment.
The story started back in October, when a wild 26-year-old stallion named Goliath was roaming with his wild herd in Wyoming when government helicopters from the Bureau of Land Management (BLM) descended and started corralling the horses into a holding area. Among those horses was not only Goliath, but also his mate, Red Lady.
As Goliath was being rounded up, some people witnessed him trying to charge at the helicopter to protect his herd.
"They have bonds that are so deep," Clare Staples, founder and president of Skydog Ranch, a sanctuary for horses in Oregon and California, told The Dodo.
These roundups are common practice since cattle ranchers want more room for their cows to graze — also, mining companies want access to the land. BLM clears the public lands of wild horses by rounding them up, removing them from the land, transporting them elsewhere and offering them up for adoption. Unfortunately, the bonds of the wild horses aren't taken into account.
In the worst-case scenarios, some of these iconic wild horses of the American West end up unwanted and auctioned off, eventually getting shipped across U.S. borders to be slaughtered.
People who had photographed the famous Goliath in the wild were heartbroken to hear that he was confined to such a small space, and that his future was so uncertain.
"Goliath had lived his whole life in the wild with a close family of mares and babies he had over the years," Staples said. "Last October, the horses were chased by helicopters with their babies into pens and then the families were torn apart."
Goliath was sent to a holding facility in Utah with several other stallions. The mares and their babies went to a different facility. They were put up for adoption, or sent to holding facilities permanently — they'd never roam the plains again.
Red Lady was put up for adoption — and a woman in Colorado bid on her and took her home.
But Red Lady didn't want to be tamed. And there was something else that might have been troubling the wild mare: She was pregnant with Goliath's baby, and all of a sudden she found herself separated from him.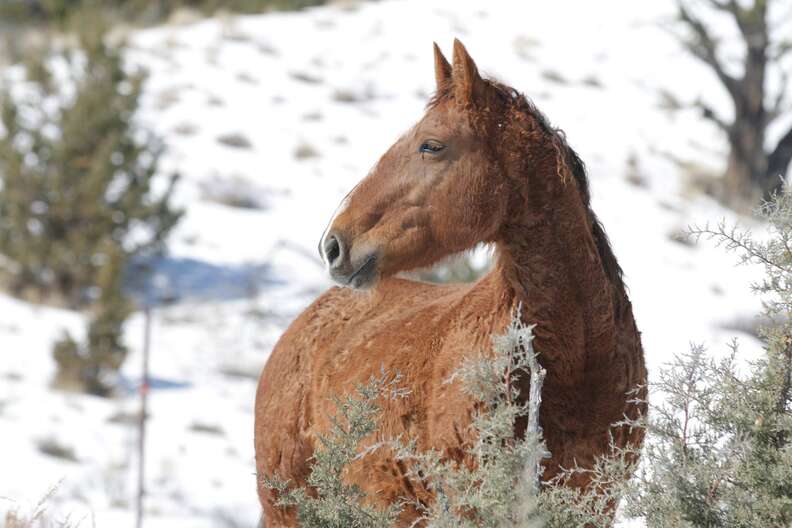 Even though Goliath might never see his mate again, Staples was determined to give him a good life.
"We decided to give Goliath the best home he could have," Staples said. "We fundraised to be able to bid on him on the BLM's internet adoption. So many hundreds of people donated ... So many people wanted him to come to Skydog."
But Staples was still haunted by the idea that Red Lady and Goliath would never see each other again — especially since she had tried so hard to find the family of the first horse she ever rescued, but she never could. "When I first started Skydog, I was so determined to find this mustang's family," she said. "And I never could in the end."
As word got out about Skydog's attempt to save Goliath, news reached Red Lady's adopter in Colorado, and she got in touch with Staples. She, too, wanted to send Red Lady to the 9,000-acre sanctuary in Oregon so that, if Staples won the bid for Goliath, the pair could be reunited.
"She wanted her to be reunited with Goliath so they could have their foal in peace and live forever together," Staples said. Everything was coming together — but they still weren't sure if they'd get Goliath. "We transported Red Lady and we waited for the adoption and we were terrified we wouldn't win the bid."
But the little donations added up — and soon Staples realized that they'd won the bid for Goliath's freedom. He arrived at the sanctuary just last week.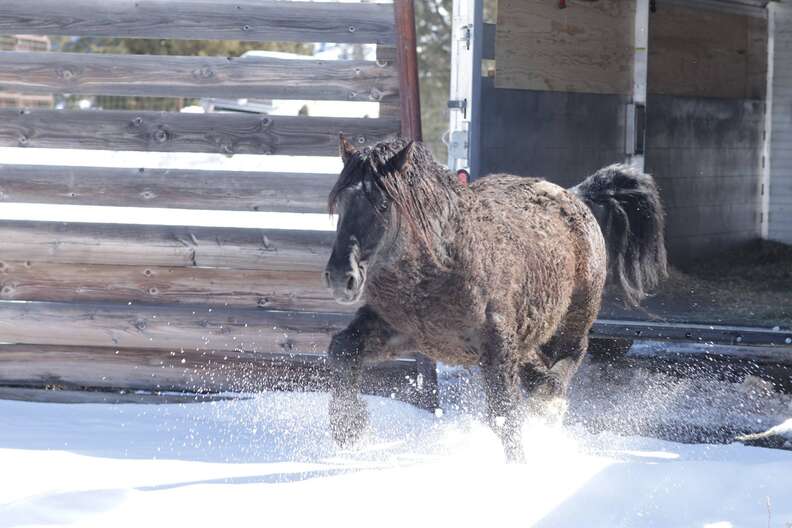 Rescuers watched as Goliath bounded off the trailer into the expansive snowy field. He ran and ran, as if he knew he was finally home.
Then rescuers surprised him by bringing Red Lady into the field. Goliath, who had run all the way to the horizon, turned around and seemed to instantly realize someone special had arrived.
The couple hadn't seen each other in nearly six months — but it was like no time had passed.
"Goliath spotted her and ran half a mile to her side in the snow," Staples said. "She trotted to him, tail high, floating through the snow, and he immediately put his nose to her belly as if he knew she was carrying his baby."
"They are inseparable," Staples said. "Every two minutes, she puts her nose to him to make sure he's still there. And he keeps putting his nose to her belly."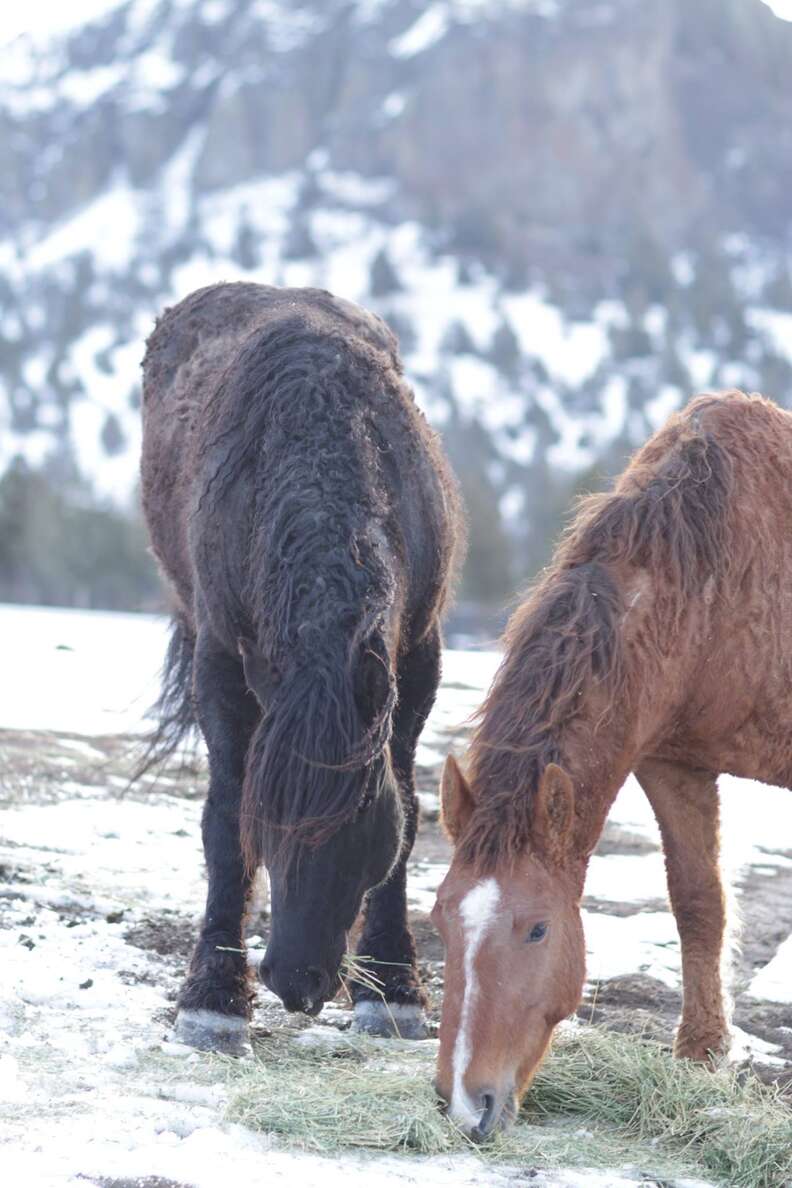 Red Lady is due to give birth in April or May. And Goliath will be by her side.
"It's my dream come true," Staples said. "[The reunion has] given so many people a happy ending. That's a beautiful thing."
To help Skydog save more horses like Goliath and Red Lady, you can
make a donation
.