Horse Couple From Viral Video Reunites In Time For Tiniest Surprise
"He immediately put his nose to her belly as if he knew she was carrying his baby."
When a famous wild horse named Goliath reunited with his mate, Red Lady, after six months apart, it was hard to imagine their story could have a happier ending — but there's been a new development at the Oregon sanctuary where they live.
After the Bureau of Land Management (BLM) had separated the couple during the course of its usual roundups of wild horses last year, so many people worked to make sure the couple could get back together. "Goliath had lived his whole life in the wild with a close family of mares and babies he had over the years," Clare Staples, founder and president of Skydog Ranch, a sanctuary for horses, told The Dodo earlier this year. "Last October, the horses were chased by helicopters with their babies into pens and then the families were torn apart."
Through several near-miracles and a lot of help from people who donated even a few dollars here and there, Staples managed to bring both Goliath and Red Lady to her sanctuary — and people cried as they witnessed the couple reuniting in March.
"Goliath spotted her and ran half a mile to her side in the snow," Staples said. "She trotted to him, tail high, floating through the snow, and he immediately put his nose to her belly as if he knew she was carrying his baby."
Goliath's intuition was right: Red Lady was pregnant. And this week, the reunited couple — who very nearly got separated forever — got to welcome their little foal to the world together.
"It is truly hard to describe this journey we have been on together," Staples wrote on Saturday, the day the foal was born. "We reunited them over a month ago and it was truly the most beautiful thing to see them recognize each other and they have not been apart from each other since. And then this morning their last foal together was born to give this story an even more blissfully happy ending."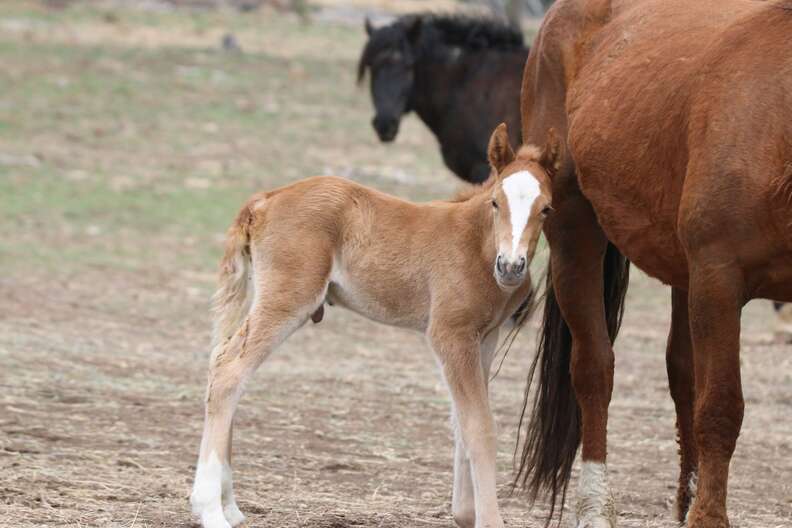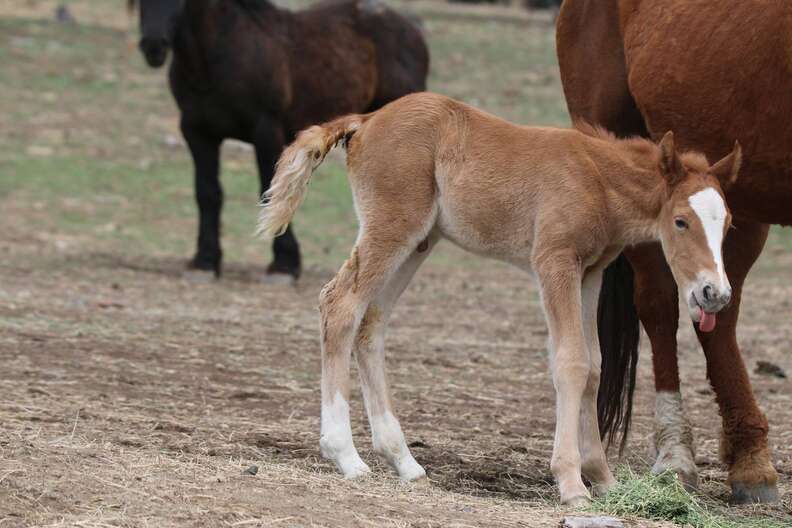 The foal is staying close to his mom, eating a lot and trying out his little legs when he gets a burst of energy. Goliath is never far away, watching over his family as they wander the expansive fields.
Red Lady is understandably protective of her foal, especially after being separated from her herd during her pregnancy. When Staples approaches, Red Lady nudges her baby with her hoof to make sure he's paying attention to his surroundings, in case they need to run away.
"Red Lady did this to tell him that I was approaching and to be alert," Staples observed. "She does it so softly and after this he has to stand up and be ready."
Maybe someday soon Red Lady will realize that her family is finally safe. Or maybe she'll always, out of an excess of caution, keep her foal and mate close.
In any case, they won't have to run from anyone ever again.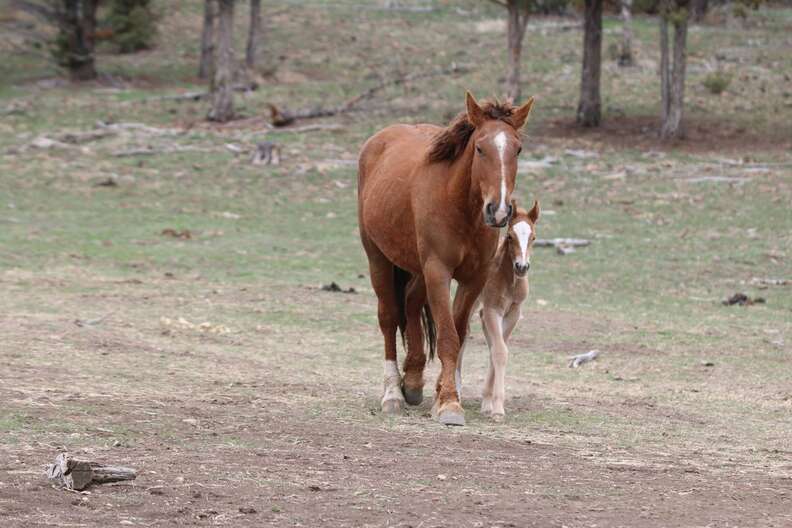 "He has the most beautiful blaze and is strong and healthy, as is his mother Red Lady," Staples wrote, thanking all the people who helped bring this family back together: "We have shared every part of this journey with all of you as so many of you donated to help us bid on Goliath and to bring him and his mare here. It is truly a shared joy that I cannot describe."
Staples always wanted to be able to reunite a wild horse family at her sanctuary — and now it's finally happened.
"I look out at the hill above our house and watch Red Lady graze with her foal by her side and her love Goliath watching over both of them [and] I feel complete," she said. "I have done a lot in my life but this feels like the most right and true act I have been blessed to be a part of."
To help Skydog Ranch care for this very special family, you can
make a donation
.