Deer Brings Her Twins To Meet The People Who Saved Her Life Years Ago
"Today we had a visit from Ping."
Wildlife rehabilitators are used to saying goodbye — when the animals they help get strong enough, they're released into the wild, and are usually not seen again.
Not so with a very special deer in Canada named Ping and the people who saved her life years ago.
Ping arrived at Northern Lights Wildlife Society (NLWS) in British Columbia back in 2008 with her brother, Pong, after their mother was hit by a car and killed. Sadly, Pong soon passed away, too. But rescuers managed to raise Ping into a healthy and happy young deer, ready to go back into the forest.
Later that year, rescuers set Ping free.
Four years later, in 2012, NLWS got a special visitor: Ping. And she had someone with her.
Ping had become a mother. At her side during that visit was a little baby, still with his white spots.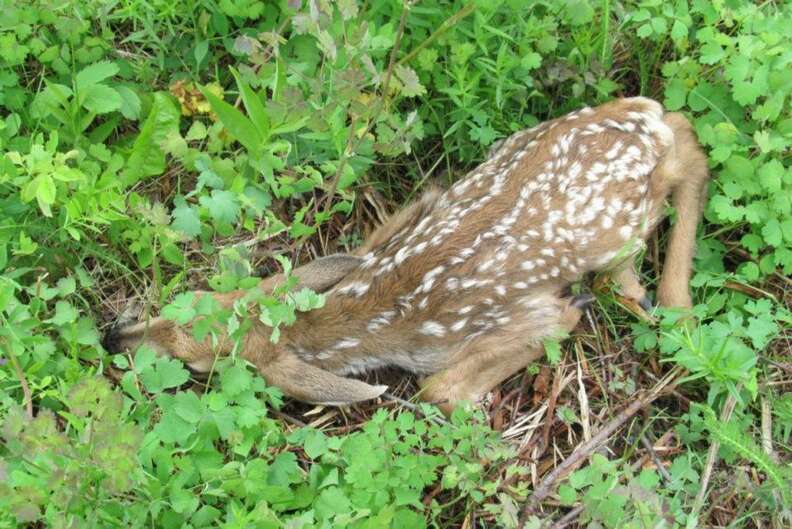 This week, five years after that visit, Ping returned with twice the surprise.
"Today was extra special as she brought twins along when taking a drink from the horse trough," Angelika Langen, co-founder and manager of NLWS, told The Dodo.
Langen said Ping's visits to the rescue center lend extra meaning to the work of saving wildlife. Currently, British Columbia is suffering from wildfires, so this reminder is especially welcome as the displaced animals from those blazes will start coming in to wildlife rehabilitation centers.
"Not only has she succeeded at a life in the wild (finding food and avoiding predators) but she is also successfully raising her own young," Langen said. "These glimpses into the life after release are precious and remind us that it is always worth it to try."