Wild Crow Moves Into Wawa And Starts Robbing Customers
"I can't believe he stole it!" 😂
You might think it would be totally safe to walk through a shopping center parking lot in the middle of the day.
Yes, you might think that — if you haven't met Edgar.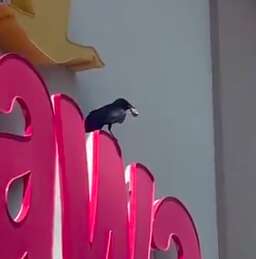 Edgar is a wild crow who sometimes lives in the sign of a Wawa convenience store. From there, he has an ideal view of all the goings-on in the parking lot below.
Just the other day, a guy walking through this parking lot learned that no one is really safe from this particularly sneaky bird.
A local Philadelphia musician, Curtis Remarc, witnessed the whole thing.
"I pulled up in my car and saw the guys pointing and talking in the direction of the crow on the sign," Remarc told The Dodo. "I got out and heard 'I can't believe he stole it!'"
That's when Remarc peered up and saw something in the crow's mouth.
"[I] realized it was money," he said.
Remarc knew he had to capture the thieving bird on video:
After he stopped filming, Remarc heard one of the guys say, "I can't believe Edgar would steal from me, I just fed him yesterday!"
Remarc had to check whether he heard correctly: "When I asked, 'His name is Edgar?', the guy goes "Yeah, I call him that, I was feeding him yesterday and now, he took my dollar!'"
Thefts like this have made Edgar the bird kind of famous. One of the Wawa store's managers told Remarc that Edgar commonly swoops down and takes people's belongings — like food, cigarettes or, as in this case, cold hard cash, which he adds to his stash in the Wawa sign.
The thefts don't always go as planned, though: Just the day before this dollar heist, Edgar had gotten his beak stuck in someone's car window.
Crows are known to be super smart — and apparently they can use their smarts for good as well as evil.
"A dreadful mugging it was," Remarc laughed.