Baby Orangutans Stolen As 'Pets' Wouldn't Stop Hugging Each Other
They were hidden in two boxes on a boat — and people couldn't believe what else they found when they opened up the rest of the cargo 😱
The two orangutans were just babies who should have been with their moms. Instead, they were far from home in a strange building with strange people all around them — and they were understandably scared. They wrapped their arms around each other, and squeezed for comfort.
These orangutans were two of 435 animals illegally caught from the wild in Sumatra, a large island in Indonesia, and smuggled onto a cargo vessel bound for Thailand. If they'd arrived at their destination, the animals would have been sold as exotic pets for large sums of money, either in Thailand itself or another country in Asia. However, Malaysian customs officials managed to stop the boat before it reached Thailand and rescue all of the animals, according to a news report.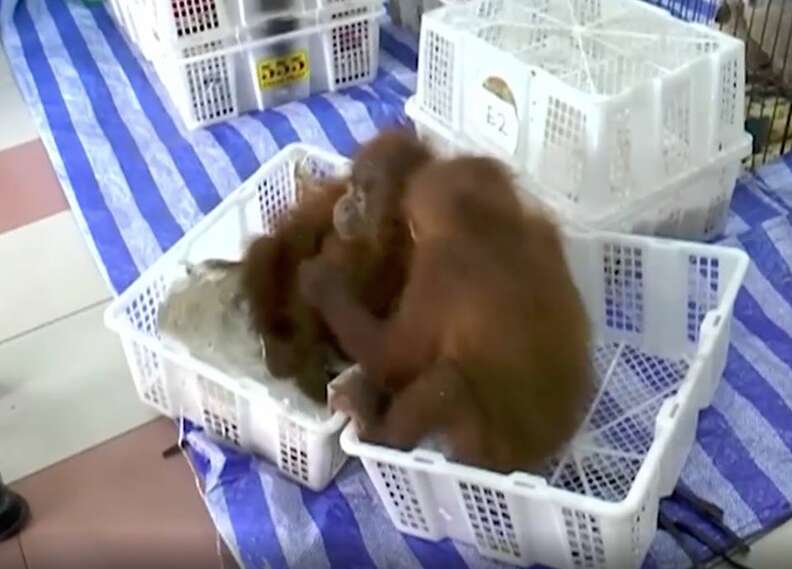 Besides the orangutans, there were baby saltwater crocodiles, sugar gliders, parrots and parakeets. While it's not clear how they were being transported, Richard Thomas, global communications coordinator for TRAFFIC, an organization that campaigns against wildlife smuggling, doesn't think the animals' comfort would have been a consideration.
"I don't know details of this particular case, but often species are trafficked in very tight or enclosed spaces to help the traffickers avoid detection by enforcement authorities," Thomas told The Dodo. "Birds are sometimes enclosed in tubes with breathing holes, and on occasion their eyelids [are] sewn shut so they will be quiet and docile."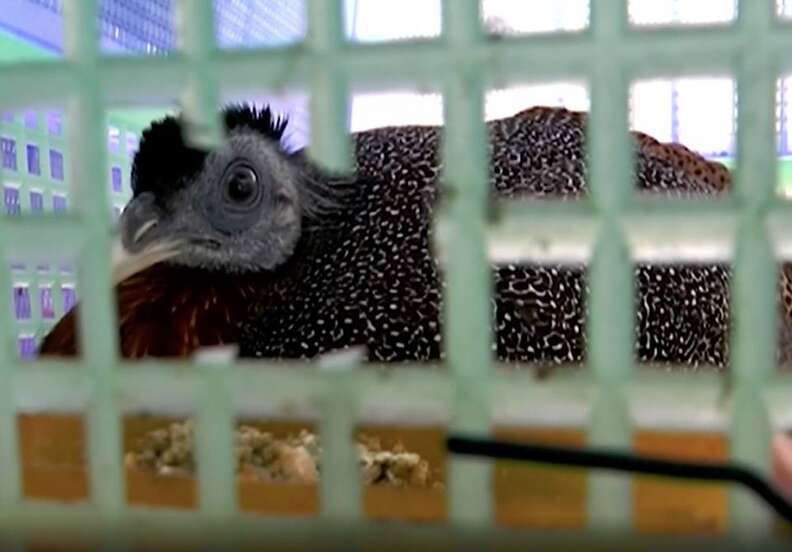 As a result, smuggled animals often die in transit.
"In general, there is a relatively high mortality because of the covert nature of the trade, and the animals are likely to receive poor treatment," Thomas said.
All of the animals would have greatly suffered, but the two orangutans, who both appear to be infants, would have found this experience particularly distressing.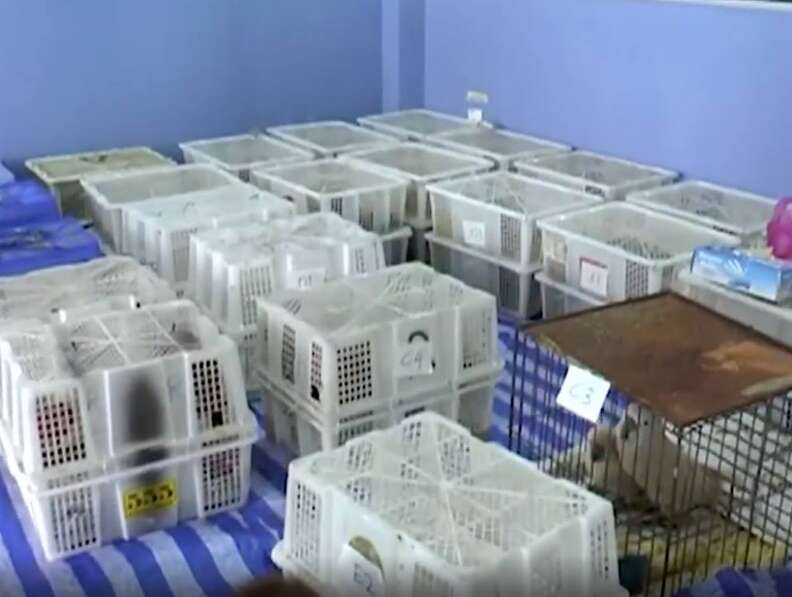 "Most certainly they will have been traumatized," Lis Key, PR and communications manager for International Animal Rescue (IAR), told The Dodo. "They should still be in the care of their mothers in the forest, not confined in the dark, alone and frightened, surrounded by unfamiliar sounds and smells, far from their natural home."
If the orangutans had ultimately been sold into the pet trade, they would have faced a "grim future," according to Key.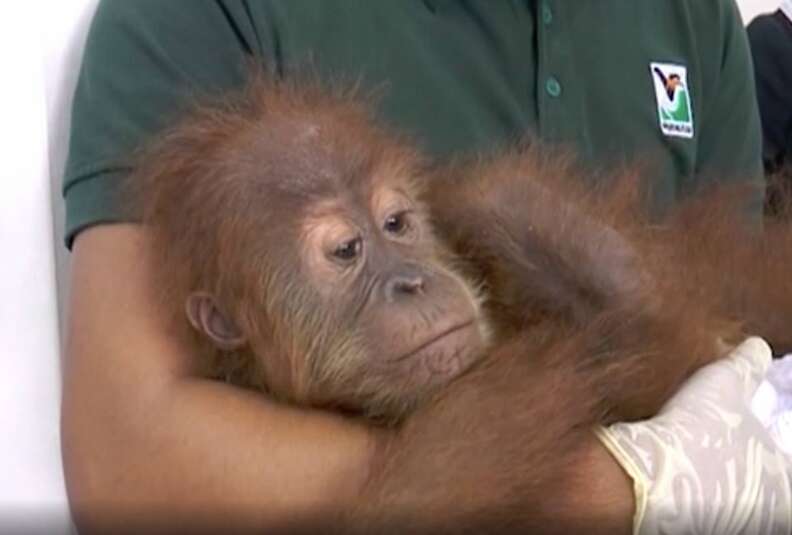 "Any person who is prepared to keep an orangutan does not have the animal's welfare at heart," Key said. "Orangutans spend most of their life in the trees, moving around in search of food and building a nest to sleep in each night. These little orangutans would most likely have been kept in people's homes and treated like playthings until they became too big and strong to manage. At that point, pet orangutans are either put in cages, chained up — or both. Their lives are utterly miserable."
Three Indonesian men have been arrested in connection with this smuggling attempt, according to a news report, and the animals are now in the care of wildlife officials in Malaysia.
"What has happened to the orangutans and all the other animals that were confiscated is heartbreaking," Key said. "We can only hope that they now receive expert care and rehabilitation — and the chance eventually to return to their home in the forest."