Guy Looks Closer At The Snow — And Spots Someone Magical
"We looked into each other's eyes ... He was very calm when he saw that I did not have bad intentions" 😍❄️
Not even Rudolph can top this magical reindeer.
On a recent visit to northern Norway, travel photographer Mads Nordsveen was hiking through the snow when an absolutely stunning animal caught his eye up ahead.
Caters/Mads Nordsveen
Looking right at him was a reindeer calf — with entirely white fur and icy blue eyes. The animal almost blended in perfectly against the snow-covered ground and mountains.
"He came to me very close and we looked into each other's eyes," Nordsveen told BBC. "He was very calm when he saw that I did not have bad intentions."
Caters/Mads Nordsveen
The little calf simply stood right by Nordsveen as he snapped a few photos. In some of the pictures, he is looking straight into the camera — likely curious to know what the contraption was.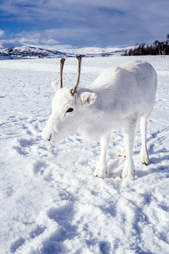 Caters/Mads Nordsveen
"He behaved as if he was posing for my photos," Nordsveen said. "He was very curious and funny, like a little explorer."
The little white-haired calf was so unique that Nordsveen said he looked like a fairy-tale character.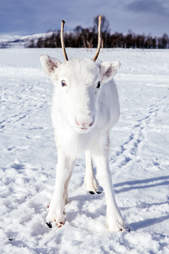 Caters/Mads Nordsveen
Rather than being albino, white reindeer actually have a genetic condition that strips the pigment from their fur.
The animals are very rare to spot in the wild, and, according to some Scandinavian traditions, are seen as a sign of good luck.
Caters/Mads Nordsveen
After a few minutes of visiting with the hikers, the little white reindeer was off again to join his brown-haired mom, who was waiting for him at the edge of the forest.
This stunning encounter is one Nordsveen won't soon forget — and thanks to his photos, the world can experience the same enchanting moment.