People Want To Sell This Rare White Lion To Be Killed By Hunters
They'd be tearing him away from his mate 💔
For the past three years, Mufasa the white lion and his mate, Suraya, have been inseparable.
The pair first met at a South African wildlife rehabilitation center in 2015, after Mufasa was seized from a person who was keeping him as a pet. The two cubs bonded instantly, and have grown up at each other's sides.
But now, they may be ripped away from one another. Instead of transferring Mufasa and Suraya to a sanctuary to live out their lives, as the wildlife center wishes, the country's Department of Rural, Environmental and Agricultural Development claims it owns Mufasa and want him to be auctioned off instead — to "raise funds" for the South African government.
This means a grim outcome. By auctioning Mufasa off, the rare lion will likely end up at a canned hunting facility — where trophy hunters can pay thousands of dollars to shoot him.
There are only 300 white lions in the world overall and just 13 living in the wild, so it's likely Mufasa's "price tag" to be hunted would be extremely pricy.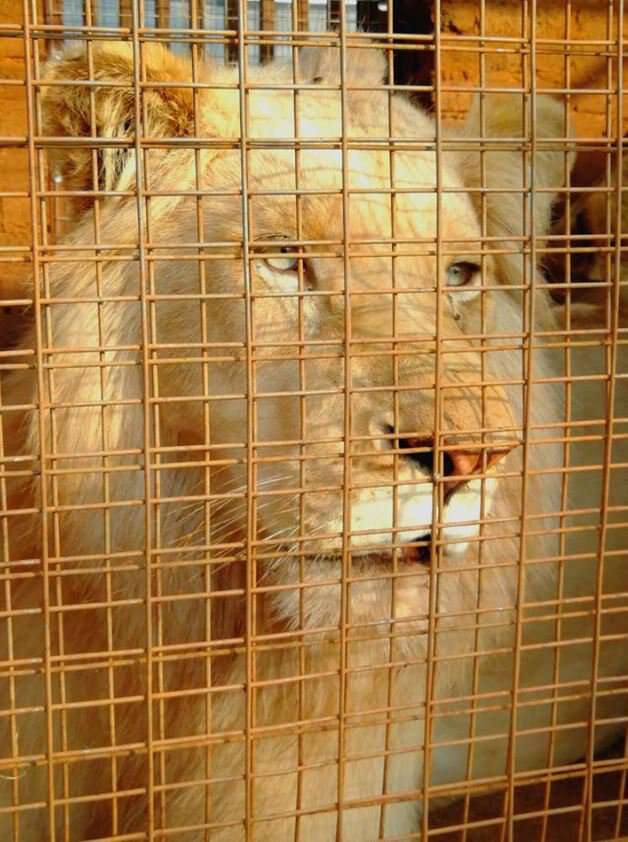 The Rustenburg Wildlife Rehabilitation Centre, where Mufasa and Suraya live, has launched a legal battle against the country's conservation department, knowing the terrible fate Mufasa would meet if he were to go to an auction. It has also started an online petition urging officials to reconsider their decision and transfer the inseparable pair to a sanctuary.
In South Africa, canned hunting has become a fast-growing business where female lions are constantly bred to maintain a steady supply of cubs. When they're old enough, the cubs are sold for hunts or become breeding stock themselves.
The wildlife center fears not only that Mufasa may be senselessly killed, but that his absence would also be devastating for his mate Suraya.
"Suraya and Mufasa are inseparable and it would be extremely traumatic for Suraya to lose her companion," the wildlife center wrote in its petition. "She was in a terrible emotional state before they were united as cubs, and even when moved to a bigger enclosure, she was highly anxious when she woke up and couldn't find Mufasa."
In addition to the chance that Mufasa may be sent to a canned hunt, the center also fears his buyer at auction could be a lion bone company, which slaughter lions to sell their bones and other parts to illegal wildlife traders in Asia.
Since the rescue started an online petition and fundraiser, thousands of people have stood behind their efforts to protect Mufasa — and a sanctuary has even stepped up to volunteer to care for the two lions for the rest of their lives. The funds raised will cover legal fees for the rescue's fight to protect them.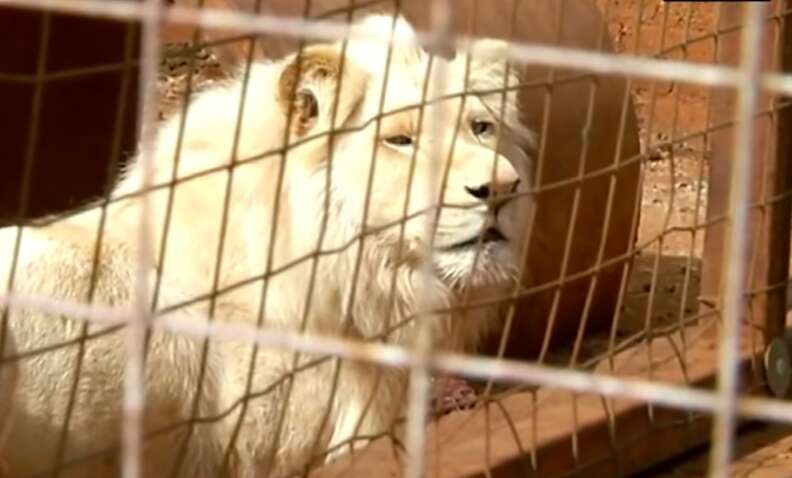 "Mufasa's story shows a new low of the terrible reality of South Africa's lion bone trade and canned hunting," the rescue said. "It is with dismay that we see the authorities' greed in putting money before animal welfare by trying to take a lion from a rehab center to sell on auction … Please help us prevent the atrocity of having this beautiful lion condemned to a trophy or a bag of bones."
The rescue isn't stepping down — and with their efforts, hopefully Mufasa and Suraya will get the peaceful sanctuary life that they so desperately deserve.