Woman Looks Out Window And Spots Strange Animal In Her Apple Tree
She'd never seen THAT before 😂
A woman just happened to glance out the window the other day when she saw something a little strange.
Everything was still and blanketed with fresh snow — well, almost everything. In the nearby apple tree there were some top branches erratically swaying.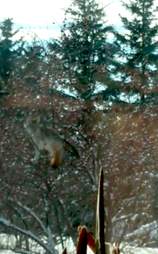 Facebook/Kathy Wilson
There was something up there, and when Kathy Wilson realized what it was — or, rather, who it was — she knew she had to take out her phone and start filming. 
"[I've] never seen a coyote pick apples like that before!" Wilson can be heard saying over the video, which shows the wild coyote munching happily away on some little apples he delicately picks off the branches with his teeth. "He looks like he's done it before."
Facebook/Kathy Wilson
In a video posted a few days later, the coyote was back at it — balancing on the branches while happily snacking.
"So there's our coyote back up in the tree," Wilson said. "We don't think he can actually get any higher."
When he's had enough of perching up in the branches, the coyote detaches himself — somewhat clumsily — from the tree, falls to the ground and shakes himself off.
Wilson can be heard laughing: "That's his style for getting down!"
Noticing that he's knocked some apples off the branches in the process, the coyote then picks his way around the snow, a kind of second helping.
Facebook/Kathy Wilson