Animals Dumped At Doorstep Are About To See Their True Home Again
As soon as they saw they were back, they knew just what to do 😍
At first, it was hard to distinguish the animals who desperately needed help from the broken pots and bricks on the property of a temple in Thailand — but rescuers from Wildlife Friends Foundation Thailand (WFFT) rushed to find all the individuals who needed saving before it was too late.
By the time they were ready to return to the wildlife hospital, rescuers had over 60 turtles — many of them endangered species — and many of the animals were so neglected they were close to death.
Temples are the go-to spots for people who have been keeping exotic animals as pets and no longer want to be responsible for them, but the monks who reside in the houses of worship often don't have the proper resources to care for the animals after they've been dumped on their doorsteps.
Organizations like WFFT, which also tend to rely on donations, have the proper expertise to help abandoned exotic pets in need — and so they end up stepping in when the temples need help. The case of these turtles was no different. And it's extremely lucky rescuers arrived when they did.
"They had been dumped at the temple over a period of years," Tom Taylor, project director of WFFT, told The Dodo. "Many were dead when we arrived."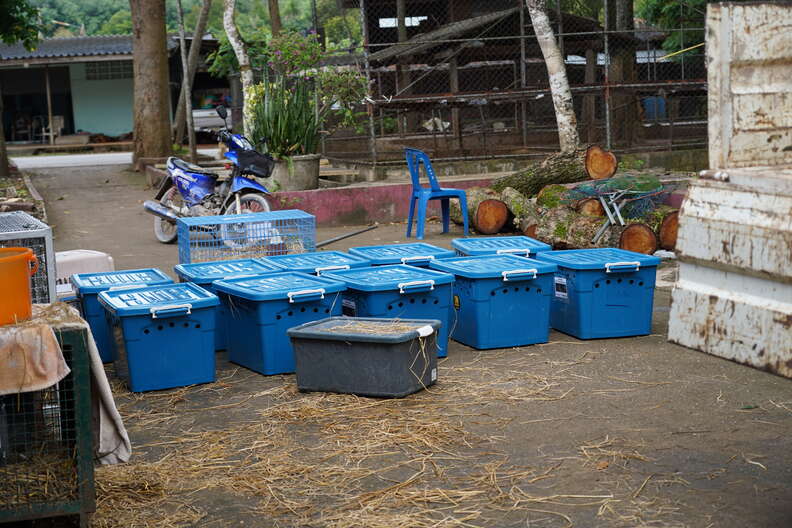 The vulnerable and endangered species of turtles saved that day included black marsh, giant Asian pond, mountain hinged, box and snail eating turtles. They were brought back to WFFT's wildlife rescue center and given fresh food, water and shelter.
A month later, the 27 strongest of the turtles were ready to see their wild homes again.
Packed in a comfortable pile of straw in the back of a truck, the turtles were escorted to a protected area of a nearby forest.
Many turtles caught up in the wildlife trade aren't as lucky.
"Most turtle and tortoise species throughout the world are listed as endangered," WFFT wrote. "They are captured for local consumption in vast numbers ... while regional networks of hunters and traders also work to supply restaurants and international markets. Turtles are heavily exploited for their eggs [and] for use in traditional medicines, and juveniles are harvested for the pet trade. Intensifying these threats are the effects of habitat destruction."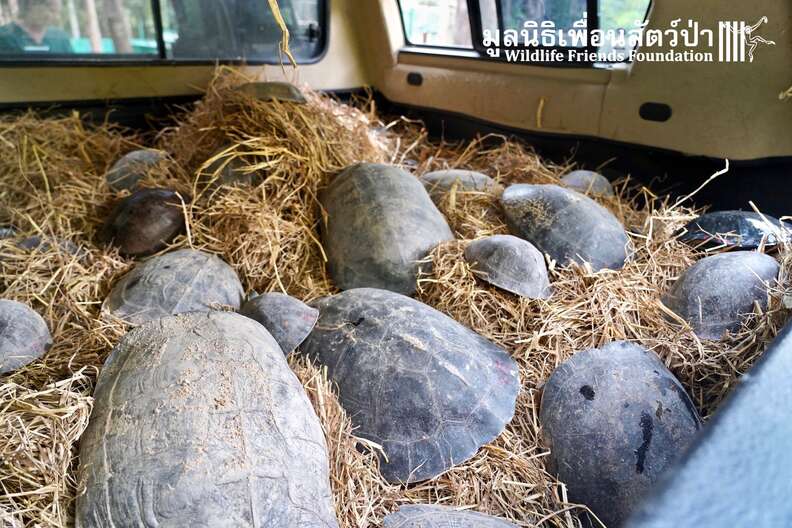 It's hard to know whether the little animals could anticipate what was coming as they rode toward their natural habitat. For many of them, it may have been many years since they'd seen a forest at all.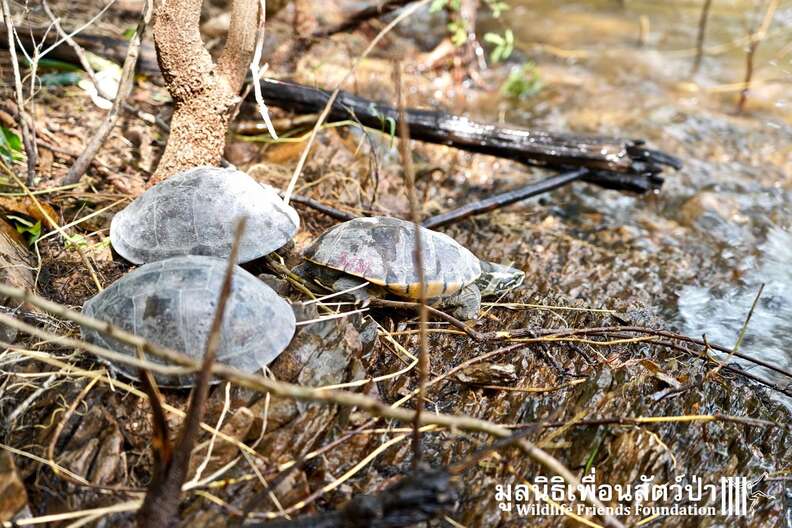 "They have access to a lake," WFFT wrote, "and heavily wooded mountainous terrain."
Once they were set down on the soft ground by some fresh water, their instincts seemed to kick in — and they knew exactly what to do.
One turtle made his way over to the edge of the water and promptly slid in.
And soon, others followed his example.