U.S. Decides To Make It Easier For People To Shoot Elephants
It's like we're suddenly abandoning them.
In a quiet reversal of policy, hunters will now be allowed to bring elephant and lion body parts back into the U.S. from hunts that take place in certain African countries — and people are shocked.
Last year, the U.S. Fish and Wildlife Service (FWS) had tried to lift an Obama-era ban on elephant "trophies," but the decision was publicly halted after President Donald Trump denounced the ban lift and called trophy hunting a "horror show."
But this week, it emerged that FWS has decided to quietly lift parts of the ban after all — at a time when elephants need protections more than ever.
Shutterstock
To try to overturn the ban on trophy hunting imports, special interest groups Safari Club International and the National Rifle Association filed a lawsuit in December. The court found certain oversights in the ban's implementation, like not allowing for a period of comments from the public before implementing the regulation. This made it possible for the U.S. Fish and Wildlife Service (FWS), now under control of pro-hunting secretary of the interior Ryan Zinke, to withdraw the previous findings about the negative impacts of trophy hunting on animals that the ban had been placed on.
Now the FWS will evaluate on a case-by-case basis whether imports of elephant trophies from Zimbabwe, Tanzania, South Africa, Namibia and Zambia will be allowed. Lion trophy imports from Zimbabwe, Zambia and South Africa will also be evaluated and authorized individually.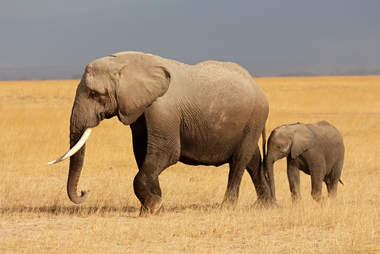 Shutterstock
"There is no doubt that the FWS, under its current leadership, is abandoning the wildlife that it has a duty to protect," Lauren Selsky, policy associate for the Humane Society of the U.S. (HSUS), told The Dodo in a statement, "or the majority of the American people, who are opposed to trophy hunting,"