People Find Terrified Little Animal Floating In Garbage Can
She had been there for over a day 💔
She was exhausted, cold and running out of time — until the kindest person saved her life.
Earlier this week, a man working on a house in South Carolina heard a splashing noise coming from a trash can that had been left open. He decided to peek inside, and he saw the most heartbreaking thing: An opossum had jumped into the can searching for food, and ended up getting trapped in a sea of rainwater that had filled the can halfway. She had no way of getting back out on her own.
The man contacted Beth Sparks, founder and codirector of The Opossum Pouch Rescue, who talked him through what to do until she could get there. He scooped up the stressed animal and put her into an empty bin as Sparks rushed to the scene. The little opossum was terrified — but her day-long struggle was finally over. Sparks brought the animal back to the rescue center, where the team checked her over and gave her some food.
"She has some nasal discharge, which we worry could be pneumonia or the beginning of it, with water in her lungs," Sparks told The Dodo. "She's extremely emaciated but not for long! Today she is snug, warm and has a full tummy."
Unfortunately, the little opossum, whom Sparks named Puddin, will likely be unable to return to the wild. She is showing signs of head trauma, possibly from being hit by a car or hurt by a predator, which is why she was so underweight.
"It causes brain damage that leaves them 'simple minded' ... they lose the fear of everything," Sparks said. "She is displaying that behavior, which makes it even harder for them to find food [in the wild]." Luckily, the rescue is also a growing opossum sanctuary that provides lifelong care for critters who are too injured or sick to live on their own.
The odds for Puddin's recovery otherwise are very high now that she's with Sparks. At the rescue, she'll receive medicine for her respiratory issues, plenty of delicious food and a comfortable den to rest in.
"She's done nothing but sleep since she came in," Sparks said. "She's very shy and timid ... but seems to fully understand she is safe."
In addition to being so tired, Puddin's ears, hands and feet are chapped from being submerged in water for so long. Luckily, that's nothing a bit of ointment can't fix.
After saving her, the rescue is urging people to make sure their garbage cans are tightly closed before they're put outside — or, if their trash cans don't have lids, to drill small holes on the side so that they're unable to fill with rainwater. If these precautions aren't taken, trash cans can quickly become death traps for unsuspecting animals.
Over the next couple weeks, Puddin will receive care around the clock to make sure she's getting better. She'll then become a full-time opossum sanctuary resident — something Sparks is overjoyed about, knowing just how close Puddin came to losing her life.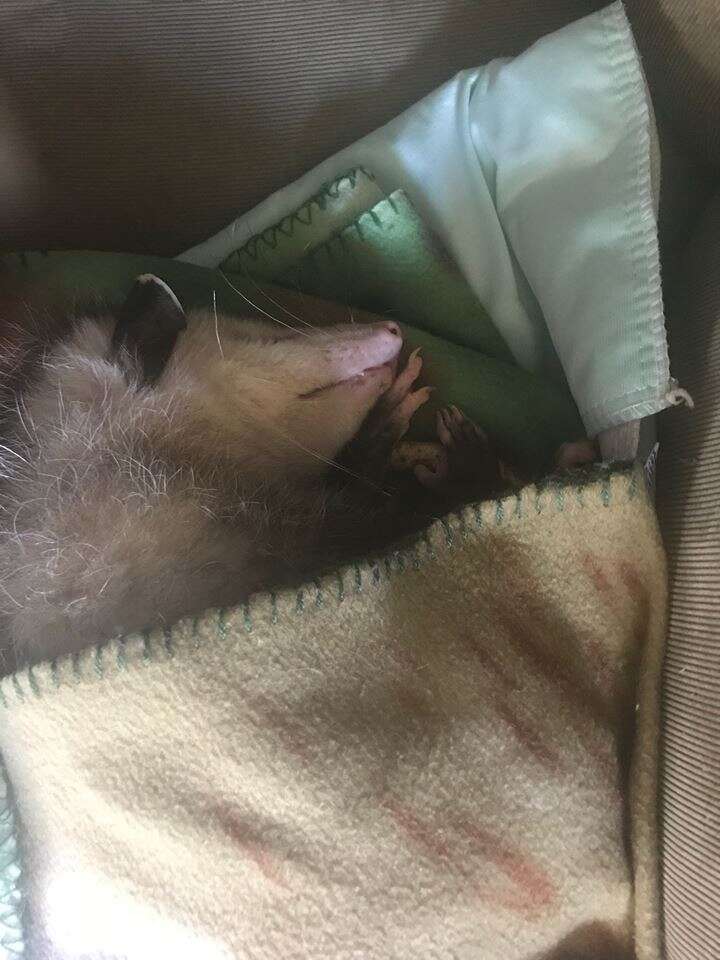 "She really is looking much better," Sparks said. "She will live out her life with us, and she's never going to have to scavenge for food or warmth again."