Police Can't Believe Who They Find Hidden In Piles Of Burlap Sacks
SO MANY TURTLES 😱
A truck rumbled down a road in Uttar Pradesh, India, but it didn't get very far. Following a tip-off, police stopped the driver and demanded to search the vehicle. What they found was shocking — 800 Indian flapshell turtles had been stuffed inside burlap sacks, and they weren't doing very well.
Wildlife traffickers had caught the turtles from nearby marshes and wetlands, and kept them in a holding area until there were enough for a full shipment. The plan was to sneak the turtles to Kolkata in West Bengal, India, before they headed to Southeast Asia, where they'd be sold as food or for use in traditional medicine.
Most of the turtles had spent several months without proper care by the time police found them, which left them weak and ill — and yet they were callously loaded into burlap sacks, piled on top of each other.
"Burlap sacks are utilized to inexpensively cram as many turtles into one easily transportable device as possible," Jordan Gray, communications coordinator at the Turtle Survival Alliance (TSA), told The Dodo. "The burlap also allows the turtles to breathe. However, this method is not only extremely inhumane, but causes shell and skin damage, heat stress, optimal conditions for the contraction and transmission of illnesses, and undoubtedly causes great physiological and psychological stress."
After stopping and arresting the traffickers, the police called team members from TSA and the Uttar Pradesh Forest and Wildlife Department (UPFWD), who rushed over to help the animals. They're determined to save all the turtles they can — but sadly, many of the turtles were either dying or already dead.
"The most upsetting situation in turtle rescues like these is when you open the sacks and animals literally start dying in your hands," Shailendra Singh, Indian program director for TSA, told The Dodo.
The lucky survivors were immediately taken to a rehabilitation center run by TSA, where a team of carers are helping them get better.
"The turtles are provided hiding places where they can de-stress, ponds to swim in, a soft bed of sand or plant husk, and are divided into small groups to decrease aggression and stress," Singh said. "Once cleared for release, the turtles are each given a unique code on their shell before being released in small groups into protected wetlands. The code, engraved in their shell, acts not only as a unique identifier, but may also serve to dissuade poachers."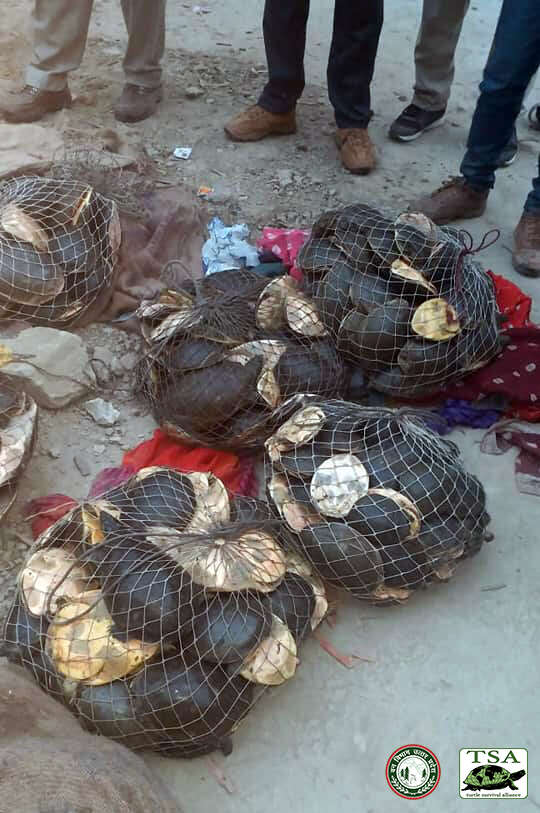 These turtles aren't the only ones who've been rescued from wildlife traffickers in India. Since November 2018, nearly 7,000 turtles — representing seven different species — have been intercepted by authorities, according to Singh. Many of them, like the Indian flapshell turtles, are being trafficked for food or traditional medicine, but others are bound for the pet trade.
"Turtle poaching and trade has placed immeasurable pressures on turtle populations worldwide, and especially in India, a country which exhibits the third greatest turtle diversity, but also one of the largest and densest human populations," Gray said. "Right now, India's turtles are under siege."
But no matter what, the team at TSA will continue to fight against wildlife trafficking, and help as many turtles as possible.
"Large consignments of seized turtles are considerably draining on monetary, research and facility resources, however, we continue to care for every turtle seized from wildlife traffickers because our love for the animals and their perpetuity comes first and foremost," Singh said.