Wild Songbirds Stolen From Florida Have Best Response To Being Home Again
"They flew through so fast you could barely see it happening."
Flying through their forest homes in Florida, hundreds of songbirds were completely unaware that something sinister was lying in wait.
The birds landed on branches doused in sticky glue, stranding them instantly with no way to escape. Others, suddenly spooked by people revving truck engines nearby to frighten them, flew right into thin veils of nets. More birds were lured into cages with an electronic bird call inside — and when they flew into the cage to look for the other bird, a trapdoor trapped them inside.
All it took was a few seconds for their freedom to be taken away.
These were the cruel tactics used by a notorious group of illegal wildlife traffickers who've been operating in Florida for at least the past six years — all designed to capture and sell the federally protected birds on the black market.
"The bottom line is these activities boil down to money," David Pharo, resident agent in charge for the U.S. Fish and Wildlife Service (FWS) Office of Law Enforcement, said in a statement. "They're making money from illegally trapping and trafficking these federally protected migratory songbirds. These people are having real impacts on the resources."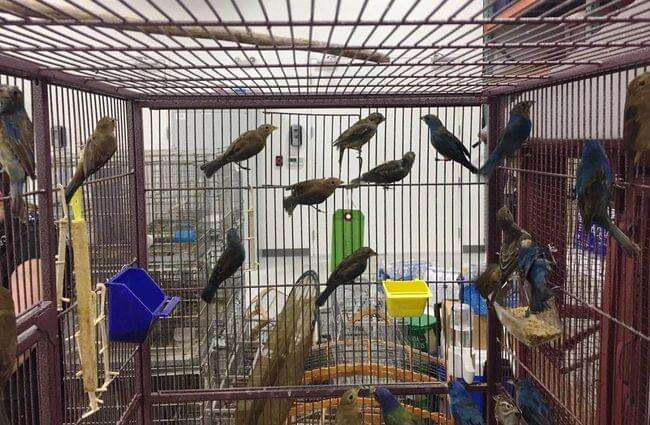 Back in 2012, FWS agents in Miami discovered someone was illegally selling indigo and painted buntings, and agents soon began to unravel a network with multiple other trappers, suppliers and sellers. Now, years later, FWS has returned more than 400 of the stolen birds back to the wild.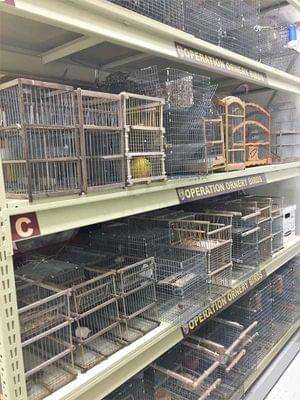 While in the traffickers' possession, the birds have faced clear abuse. Some had their tail feathers ripped out, while others were left in nets for long periods of time, which caused them to be attacked by wild predators. During transport, birds were reportedly stuffed into plastic hair curlers and taped onto traffickers' bodies under baggy clothes to make sure the animals weren't detected. Others were smuggled in containers with false compartments.
The most recent of the stolen birds to see freedom again was a group of 130 migratory songbirds, ranging from northern cardinals and painted buntings to house finches and clay-colored sparrows. The birds were recently bought from illegal trappers during a sting by undercover investigators — and were more than ready to return home.
That day came on April 14, two days after six people were officially charged with collectively trafficking the over 400 wild birds.
As a crowd of 50 people gathered eagerly to witness the birds' homecoming, FWS brought their large cages out and set them on the grass in the Florida Everglades.
"The birds were in three different cages, and released one cage at a time," Phil Kloer, public affairs specialist for FWS' southeast region, told The Dodo. "So it wasn't just one joyous moment, it was three."
As each cage was opened, the birds fluttered around and bolted out into the sky. No one knew how long it had been since they could fly freely — but the birds took full advantage of their freedom.
"Each cage had more than 40 birds, and they flew through so fast you could barely see it happening," Kloer said. "But then you looked up and saw them silhouetted in the morning sky. Some flew off into the Everglades, but several just went as far as the nearest clump of trees and perched there, as if figuring out their next move."
While some birds hadn't survived the cruelty they faced in captivity before being rescued, these 130 birds and hundreds of others previously released from the case will now know freedom again — thanks to the hard work of law enforcers looking to stamp out wildlife crime.
And that, Kloer said, is a feeling that resonated deeply, as officers watched the birds fly off to their second chance at life.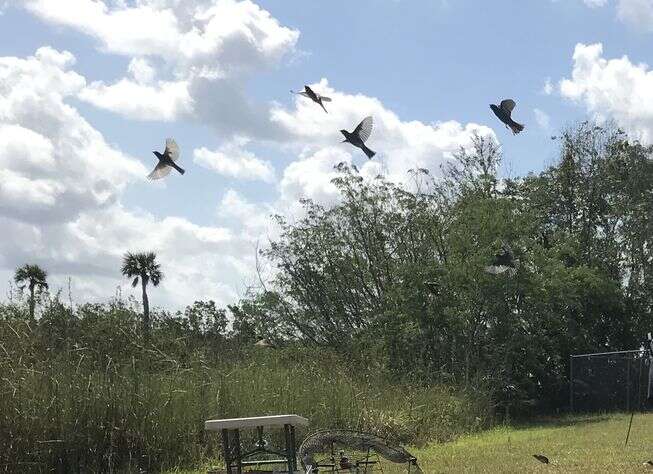 "Nearly everyone at the release had been involved in some way in the law enforcement operation," Kloer said. "[We] felt a real sense of accomplishment, as well as just sheer exhilaration at watching some of nature's most beautiful creatures return to where they belong."