Man Finds Something Very Strange Underneath Woman's Bed
He saved THOUSANDS of little lives 😱
A man in Louisiana has become something of a legend for rescuing a type of creature a lot of people avoid: bees.
One of the most memorable rescues Jeff Horchoff carried out occurred a couple of years ago when a woman called him for help — again.
She had heard some buzzing coming from the floorboards beneath her bed, and knew that the bees were back.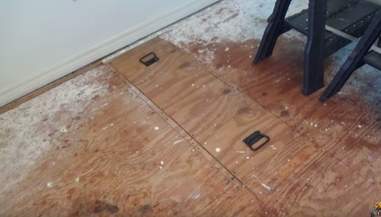 Jeff Horchoff
Luckily, Horchoff had left hatches in the floor from the last time he was there to save a hive. That way, the rescue of thousands of little lives would be easier this time around.
Horchoff packed up his special suit and his unique type of vacuum, and he was off.
Jeff Horchoff
Horchoff had to be extremely careful as he removed the floorboard. And he had to don his special suit.
But with expert care he managed to pull what was living underneath the bed out and lay it on the table: a hive containing an estimated 10,000 honey bees.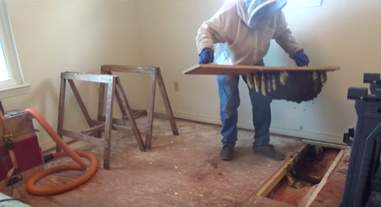 Jeff Horchoff
"I've had bees for 25 years," Horchoff told The Dodo. "But I never did any wrangling of bees at first."
Horchoff got into the business of rescuing bees when he realized how often their hives need to be relocated. In this case, the bees had gotten into this woman's home through a crevice in some shingles on the side of her house.
Jeff Horchoff
Horchoff realized that rescuing bees was also the perfect way to get honeybees who were really strong survivors — for free. And the bees Horchoff rescues end up living on a monastery, surrounded by reverent Benedictine monks.
The tradition of beekeeping among monks stretches back for hundreds of years. And, fortunately, there's Saint Joseph Abbey and Seminary right down the road from Horchoff's house in Louisiana. 
Jeff Horchoff
"Bees operate as a close-knit community in which each bee has a special task that is for the good of the group," the abbey explains. "Much like monastic life, the bees are devoted to their community and work together for a common goal."
And that's exactly where this beehive would end up. But first that special vacuum had to come in.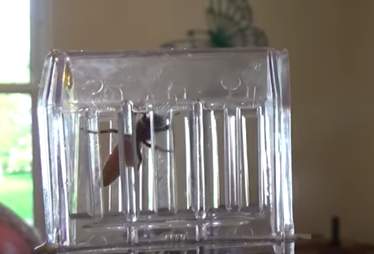 Jeff Horchoff
"It's a specially designed vacuum where the amount of vacuum on it is regulated by a valve. If you put the vacuum to your skin you can barely feel it," Horchoff explained. "Once they are inside it's a bee box and there are frames in there ... The bees crawl up on the frames and hang out until they can reunite with the queen on their comb."
When many of the bees were vacuumed safely away, Horchoff spotted someone special: the queen. He reserved a special clear box just for her.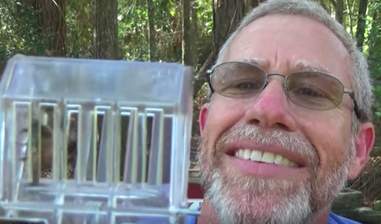 Jeff Horchoff
"The reason I spend a lot of time searching for the queen is because she's the only bee in the hive that lays eggs," Horchoff said. "A queen can lay up to 2,000 eggs every single day. I spend so much energy looking for her because I don't want her to be harmed. If I find her I can work faster because I don't have to worry about hurting her."
If the worst does happen, bees can generate a new queen, but it can make the rescue a lot harder.
Jeff Horchoff
"The transition of moving bees from a structure to a box is very stressful for the bees," Horchoff said. "If they have their queen there, the transition is so much easier for the bees."
After cutting up the hive and replacing it in a box safely on the grounds of the abbey, Horchoff finally released the queen, who quickly crawled down to the center of the hive, surrounded by her workers.
Jeff Horchoff
That's where the hive has been to this day, and it's still thriving.
There are dozens of hives at the abbey that Horchoff watches over, and they produce gallons and gallons of honey to help support the abbey.
Unlike many honey producers, Horchoff doesn't use any chemicals to treat the hives — it all works through love, care and good faith.
"The only quality I look for in bees is surviving bees — that they can deal with the mites, moths and predators," Horchoff said. "I'm just a country guy."
You can keep up with Horchoff's amazing bee rescues by following his
YouTube channel
.