Rescued Lion Sees His New Cardboard Box Toy And Completely Loses It
"He reminds me of my cat at home" ❤️😸
A stack of boxes, painted to look like a giraffe, suddenly topples over as the big cat pounces and rolls all over his new toy.
Joy spreads across his face as he lies down and swats the boxes with his giant paws. He playfully bites the cardboard and steals a piece before running off.
Saeed may be a full-grown lion — but he loves cardboard boxes as much as any housecat.
This is just the adorable scene Saeed's rescuers saw earlier this fall at the Lionsrock sanctuary in South Africa, where the big cat now lives peacefully after a harrowing start to life. Saeed arrived there in February after being rescued from a barren, war-torn amusement park zoo near Aleppo, Syria — and now, he's experiencing toys for the first time in his life.
Three-year-old Saeed was born at the amusement park during the war, which left many captive animals stranded in the war zone without proper care when their caretakers fled to safety. In Syria and neighboring Iraq, some trapped zoo animals survived traumatizing bomb explosions, while others simply starved to death inside their cages.
Saeed in his cage at the Syrian zoo

| Four Paws
Very malnourished and weak, Saeed was a mere shell of himself when he was first rescued by Four Paws in July 2017.
"When I think back to when he was first brought under our care, his mane was disheveled, he was skinny and very sickly," Robert Ware, executive director of Four Paws USA, told The Dodo. "Now, seeing his mane full and ebb and flow as he runs absolutely exudes power and it's breathtaking."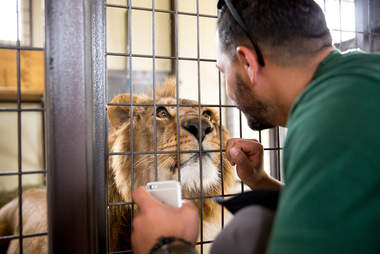 Saeed looking at his caretaker after being rescued

| Four Paws
At his sanctuary home, Saeed can freely roam the South African plains as if he were in the wild. He's also well on his way to finding a pride of his own; Saeed's caretakers are slowly introducing him to a rescued lioness named Nala in hopes the two will eventually become companions.
"The purpose of introducing Nala to Saeed is not to breed more lions — we don't allow breeding of any kind at any Four Paws sanctuary [so more lions won't be born into captivity]," Claire LaFrance, head of communications for Four Paws USA, told The Dodo. "Instead, we hope the two lions can become companions for one another, so they can form an emotional bond that lions naturally depend on in the wild for survival."
Saeed relaxing at the sanctuary

| Four Paws
Saeed has settled in wonderfully at the sanctuary, LaFrance said, and he really enjoys playing with his toys. One of his favorite activities is "hunting" for cardboard boxes, which his caretakers often design and paint to look like natural prey.
After everything Saeed has been through, he's getting all the cardboard boxes in the world — and he couldn't be happier.
Four Paws
"Saeed loves to play with boxes," LaFrance said. "He is always so curious, approaching quietly and cautiously at first and then he will pounce! He reminds me of my cat at home. It just proves that no matter the size of the cat, these activities are a favorite."