Zoo Kills 9 Baby Lions Just Because They Were 'Surplus'
They bred them on purpose — then decided they didn't want them anymore 😞
Update 1/16/2018: A spokesperson for Borås Djurpark recently contacted The Dodo with the following statement: "We follow EAZA's Code of Ethics and the Culling Statement, which are also reflected in the WAZA policy for the same issue. The euthanasia takes place at a biologically relevant junction, such as weaning, leaving the family unit or any other social group. We are very transparent about this concept, both in our communication with our visiting guests and students, as well as in our communication with the media."
In August 2012, four healthy lion cubs — Simba, Nala, Sarabi and Rafiki — were born at Borås Djurpark, a zoo in southern Sweden, after the zoo let their parents breed. By fall 2013, the zoo had killed all four cubs for a reason many people are now calling unacceptable.
According to Swedish media site SVT, zoo documents reveal that the four cubs were in excellent health at the times of their death, but the zoo simply considered them to be "surplus" animals.
Simba, Nala, Sarabi and Rafiki shortly after they were born.

| Facebook/Borås Djurpark
The cubs weren't alone. The following year, in 2014, the zoo allowed three more cubs to be born: Kiara, Banzai and Kovu. The zoo killed them, too, a year later.
Inn August 2016, the zoo announced the birth of four more lion cubs — Potter, Weasley, Granger and Dolores. While Granger and Dolores were eventually relocated to an unnamed zoo in England, Potter and Weasley were killed this past Tuesday.

Potter, Weasley, Granger and Dolores, who were born in August 2016

| Facebook/Borås Djurpark
In total, the Borås zoo has killed nine healthy lion cubs in the last six years.
"We had tried to divest them to other zoos for a long time, but unfortunately there were no zoos that could accommodate them," Bo Kjellson, CEO of Borås Djurpark, told SVT.
"As the aggressions became too big in the group, we had to remove some animals."
Many members of the public, as well as animal welfare advocates, are furious — they believe that the cubs were brought into existence to bring visitors into the zoo, then discarded when they were not longer tiny and cute — a sad fate that's not uncommon for cubs in cub-petting attractions and some zoos, but is usually kept behind the scenes.
"We are sickened by the horrifying and unjustifiable murder of nine healthy lion cubs by Borås Zoo in Sweden," Fleur Dawes, communications director for In Defense of Animals, told The Dodo. "Zoos regularly breed baby animals to draw in crowds, then zoothanize [euthanize 'surplus' animals] them when they become less profitable. Zoothanasia is a rampant, cancerous practice that betrays intelligent, conscious individuals for money."
Zoo workers dressed up as lions to entertain children at Borås Djurpark

| Facebook/Borås Djurpark
In the wild, African lions are considered to be a vulnerable species. Three major threats are habitat loss, prey depletion and people hunting them. So the killing of nine healthy cubs seems especially frivolous to conservationists and animal lovers alike.
"Killing members of this threatened species is especially vile, and shows that zoos have no genuine interest in conservation," Dawes said. "This despicable zoo is unfit to care for animals and we call on the Swedish Government to retire the remaining animals to a sanctuary where they can receive genuine care and respect."
Borås Djurpark could not immediately be reached for comment.
Unfortunately, Borås Djurpark is not the only zoo that has killed "surplus" animals. In 2015, the Odense Zoo in Denmark came under fire for killing a healthy lion simply because the zoo had too many lions. And in 2014, Copenhagen Zoo killed a perfectly healthy giraffe named Marius right in front of visitors, then publicly performed an autopsy on him and fed his remains to the zoo's resident lions.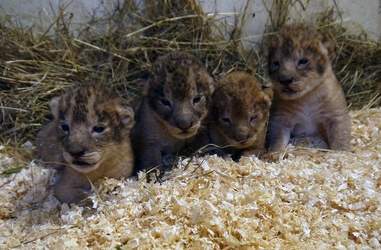 Potter, Weasley, Granger and Dolores — Potter and Weasley were killed last Tuesday

| Facebook/Borås Djurpark
"No matter how many times we hear about the intentional killing of animals at zoos, the shock of it isn't any less," Prashant Khetan, CEO and general counsel of Born Free USA, told The Dodo. "And when the decision to kill is made because the animals are deemed 'surplus,' it is heartbreaking. I can only hope that this tragedy doesn't become another statistic, but rather begins a conversation about why we need zoos in the first place, when viable alternatives exist to learn about and see animals in their natural environment."