'Waving' Bear Spotted In Forest Was Trying To Tell People Something
She actually really needed help.
A wild sun bear now known as Belia would have died if she didn't signal to people just how much she needed help.
Belia lives on the island of Borneo, and she was walking through the forest recently when suddenly something caught her around her paw.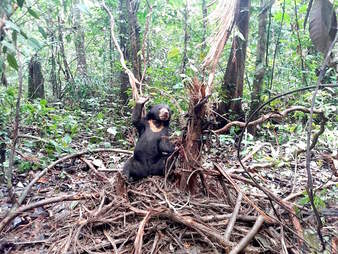 Four Paws
Warning: Disturbing image below
Belia had stumbled upon an illegal rubber plantation. And someone had set up snares around the rubber trees to keep wild animals like Belia away.
Only Belia knows how long she was caught in the trap — and it probably felt like an eternity before she saw people come by and decided to wave to them.
As people moved closer, it was clear just how much pain Belia was in.
Four Paws
"The bear was originally found by our colleagues at the Jejak Pulang Foundation," Claire LaFrance, communications director for Four Paws, told The Dodo. "She suffered an injury to her left front paw."
Rescuers removed the snare and rushed Belia to a safe place where she could rest and relax while they treated her injury. Sadly, her paw as just too damaged to be saved.
Four Paws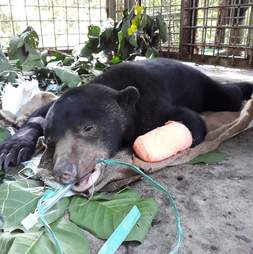 Four Paws
After amputating her paw, people lovingly wrapped her arm in a bandage and let her rest.
Then, once Belia woke up, she began regaining her strength so she could be a wild bear again.
"Her age was estimated to be only 2 years old so her future looked bright!" LaFrance said. Rescuers believed that such a young healthy bear could adapt to her handicap well enough to be wild again.
And they were exactly right.
Four Paws
It only took eight days for Belia to recover from the incident. After some days spent in her outdoor enclosure, she was itching to go back to the forest again.
And so her rescuers carried her back to her home in the forest.
Four Paws
Unfortunately, Belia isn't alone in facing dangers posed by humans in Indonesia. Between palm oil plantations and other industries that cut down on rainforest habitats, many precious and protected species become injured or even killed because of their run-ins with people.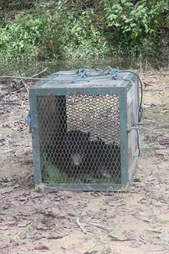 Four Paws
Luckily, Belia's story has the happy ending all these wild animals deserve — even if she's one paw poorer.
"After adapting to her handicap of losing one paw, she could finally be released in the same spot where we first found her," Four Paws wrote on Facebook. "What a moment!"
Four Paws
As she made her way back into the forest, Belia hardly seemed to miss her paw. And hopefully the whole incident will be a distant memory for her soon.