Starbucks Has Ties To Company That Sells This Horrible 'Delicacy'
It kills 73 million wild animals every YEAR.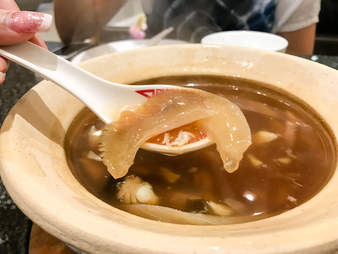 Shutterstock
Many people don't realize just how the shark fin trade is ravaging shark populations, which puts entire underwater ecosystems at risk. And until recently, most people had no idea that Starbucks — one of the most popular coffee chains in the world, which also promotes its commitment to ethical environmental standards — has a partnership with a company that still serves shark fin soup.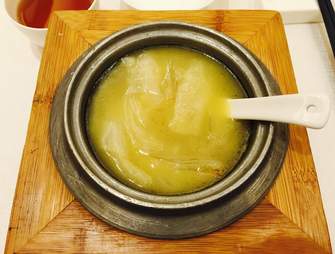 Shutterstock
For the past 18 years, Starbucks has partnered with Hong Kong's Coffee Concepts Limited, which is owned by Maxim's Caterers Limited, a food service and restaurant company that has previously claimed it phased out the dish. But investigations revealed that the restaurant still sells shark fin entrees as part of its "secret menu."
People at WildAid, an organization aiming to save animals by cracking down on the illegal wildlife trade, have started a campaign to get Starbucks to take a stand for sharks by either ending its partnership with Maxim's or putting pressure on the company to stop serving the soup. 
Shutterstock
"We applaud Starbucks for its commitment to environmental sustainability and corporate social responsibility ... However it pains us to highlight one aspect of your company's operations," WildAid wrote in a letter to Starbucks founder and executive chairman Howard Schultz and Starbucks president and CEO Kevin Johnson. "Despite our best efforts to convince their management otherwise, Maxim's continue to engage in [the] cruel, barbaric, unsustainable and often criminal shark fin trade ... Much of the shark fin entering the supply chain is from illegal, unreported and unregulated fishing. In many countries, illegal wildlife trade is controlled by the same organized crime groups that traffic arms, narcotics, counterfeit goods and humans."
Shutterstock
Starbucks replied to WildAid: "We sincerely appreciate your desire to provide feedback about our licensee agreement with Coffee Concepts Limited. While I cannot connect you with Mr. Schultz or Mr. Johnson, I will ensure that your feedback is documented and forwarded to the appropriate departments." WildAid took the response as a simple brush-off.
Starbucks is expected to continue to expand in Asia, and people concerned about stopping the shark fin trade are speaking out ahead of upcoming expansions so that more investors and customers are aware of the partnership.
Shutterstock
"Starbucks customers deserve to be informed," Gary Stokes, Asia director for Sea Shepherd Global, said. "The shark fin industry is not limited to just the shark fin traders, but spans from the fisherman who killed the shark all the way to the restaurants that serve shark's fin soup. By licensing Starbucks' brand to Maxim's Caterers Limited, who openly sell shark's fin on their menus, Starbucks has partnered with the shark fin trade itself."
Starbucks has not yet replied to The Dodo's request for comment.