Squirrel Knocks On Woman's Door Just When She Needed A Friend
"My back door was closed and I heard these tap-tap-taps on it."
It was one of the hardest weeks in Michelle Burleson's life. She had just returned from the vet, after having taken her beloved dog of 13 years, Budgie Lou, to be put down. There seemed to be nothing in the world that could ease her pain — that is, until she heard a faint knocking on her door.
"My back door was closed and I heard these tap-tap-taps on it," Burleson told The Dodo. "I went to investigate but saw nothing until I looked down to see a skinny little squirrel staring up at me."
"When I opened it, she didn't run away," Burleson added. "We just kind of just looked at each other."
Burleson noticed that the squirrel was thin and her coat looked patchy, so she found a handful of nuts and tossed them on the patio.
She assumed that would be the end of it, but that same evening the squirrel returned, peeking her head in the back door. The skittish animal darted away when Burleson tried to approach her. But it didn't take long for the two to establish a routine.
"She showed up the next morning at sunrise and again at sundown, like clockwork every day," Burleson said. "Her consistent daily visits gave me something to look forward to."
Burleson named the squirrel Stymie, and for the first time, she could feel the weight of her grief lift. Stymie, too, became plumper and happier. "We slowly started trusting each other more and more," Burleson said. "At first, I was scared she might bite me or something, but she was always very gentle."
Stymie began treating Burleson's home as if it were her own, drinking out of Burleson's old dog bowl and sleeping in the dog bed. For the most part, Burleson had an open-door policy, though sometimes, the squirrel still had to knock when she wanted to be let in.
"She would hang out for a few hours a day at her spot on the couch or my lap," Burleson said. "I lived at the beach so I would oftentimes leave the door open or cracked for the breeze but when I didn't, she'd climb up on top of my surfboard rack outside to bang on the window outside my bedroom."
Inspired by Stymie and the memory of her dog Budgie Lou, Burleson decided to do something to give back to animals. So she founded Budgie Lou Brew Coffee & Co., an artisan roasting company that gives a portion of their profit to senior dog rescue and hospice, as well as advocating for older shelter dogs.
"There's no way it would've happened without Stymie showing up one day and putting a little joy back in my life," Burleson said. "Some of my friends half-joked saying she was Budgie or my family reincarnated."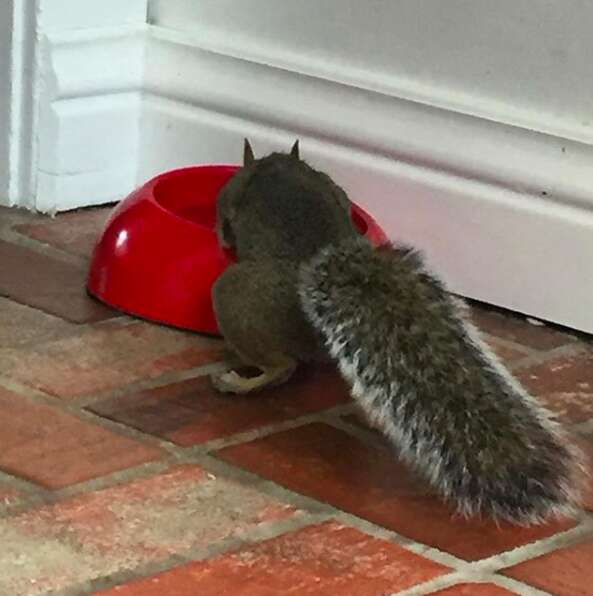 When Burleson decided to start her dream company, she sold everything she owned and began traveling the world. This meant that she had to say goodbye to Stymie — breaking her heart all over again.
"I can't deny that I cried my eyes out the last time I walked out the door," Burleson said. "As I drove away, I saw her run out in my rearview mirror, standing on her hind legs watching me. I turned the car around one last time to say goodbye."
Stymie is still living in the redwood tree in Burleson's old backyard, and the little squirrel probably has no idea that she changed someone's life forever.

"She was a really great friend at one of the lowest points of my life," Burleson said. "All I know is animals are the best."