Snowy Owl Gets Hit By Car — And Ends Up Stuck Inside
"This is the first time I've ever personally seen an animal bust through and end up in the vehicle."

This brilliant white snowy owl came within mere inches of death — but now he's on the mend.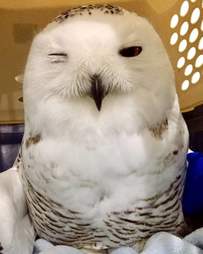 Salthaven West
Last Thursday, the owl collided head-on with an SUV in Saskatchewan, Canada. Miraculously, rather than striking one of the car's metal panels, he ended up breaking through the vehicle's (slightly) more forgiving front grille.
There, he wound up stuck — though thankfully still alive.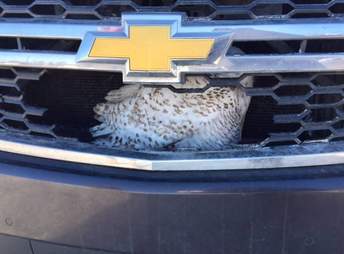 Salthaven West
Aware that she had hit something, the driver of the SUV pulled over shortly after to check on the damage. It was then that she discovering the owl clinging to life beneath her hood.
She immediately called Salthaven West, a wildlife rescue center in the town of Regina, to help get him out.
Salthaven West
Megan Lawrence, director of Salthaven West, arrived to the scene to help. Though far from a pleasant ordeal for the owl, she said he was actually quite fortunate for the way things had worked out.
"It's very common for animals to be hit by vehicles, but usually they end up in ditches, and may not ever be found," Lawrence told The Dodo. "It does happen that they are stuck in the grille of vehicles, but this is the first time I've ever personally seen an animal bust through and end up in the vehicle. He's definitely lucky it wasn't worse!"
Salthaven West
The owl suffered a head injury and a broken wing in the crash, but his will to live is still intact. And now he's getting the help he needs.
His rescuers even gave him a name: Tahoe.
Salthaven West
He's not out of the woods yet, but the owl is definitely in good hands.
"Tahoe is doing well so far," Lawrence said. "We still consider him to be critical as a result of the head injury, but he is making improvements, as he is more alert and active. He is responding well to medication, so we're hopeful for a recovery."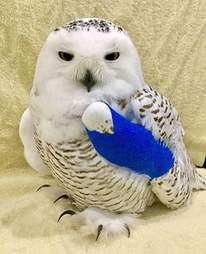 Salthaven West
If all goes well, and Tahoe's wounds heal as his rescuers hope, he'll be returned to the wild in about 6 weeks — the lucky survivor of an incredibly close call.
You can help support Tahoe's recovery by making a donation to
Salthaven
.