Woman Had No Idea There Was A Giant Snake Hanging Out On Her Porch
Can you spot him?
Over the weekend, a woman in Australia stepped out onto her porch, ready to have a nice peaceful day. She was very relaxed, and was prepared to take in the view and spend the morning lounging on her patio furniture. She settled in — but after a few minutes, she suddenly realized she wasn't alone.
There was a 6-foot-long snake lounging right next to her, also taking advantage of the gorgeous, sun-soaked morning.
She hadn't noticed him at first because he blended into the background, but the quiet carpet python had been right next to her on the couch the whole time. Not super keen on sharing her morning with such a huge snake, the woman immediately jumped up and contacted Stuart McKenzie, of Sunshine Coast Snake Catchers 24/7, hoping he could help with her scaly visitor.
"I came out straight away and was there within 15 minutes," McKenzie told The Dodo.
While carpet pythons are nonvenomous and harmless towards humans, McKenzie wanted to get the adventurous snake safely back to the wild, so he headed out onto the porch to assess the situation. The snake was in an incredibly easy-to-reach place, so all McKenzie had to do was walk over and pick him up — and that was that.
"It was an easy rescue," McKenzie said.
While the snake was around 6 feet long, that's only medium-sized for a carpet python. As McKenzie tried to slip him into a bag to transport him to a safer area, the snake tried to slither onto McKenzie instead, hoping to continue to soak up the sun from a comfortable place.
After finally getting him into the bag, McKenzie took the snake away from the house and over to a suitable area …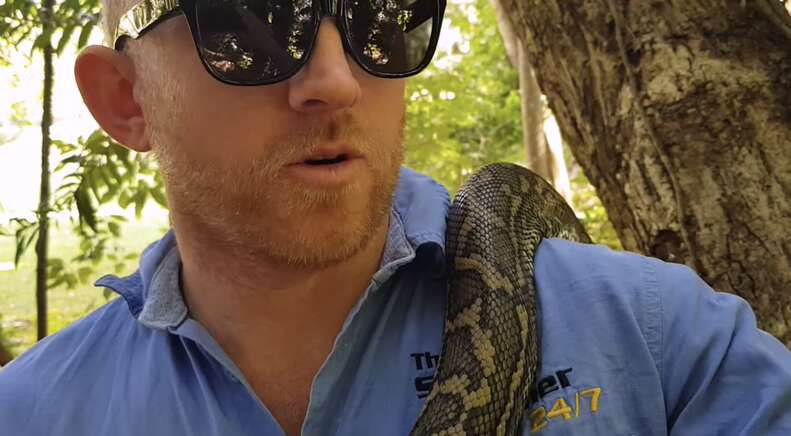 … and as soon as he opened the bag, the snake slithered up onto him again, using him as if he were just a big tree.
McKenzie is very comfortable around snakes and had no problem with his new friend hanging out with him for a bit — and the gentle snake eventually used him as a stepping stool to an actual tree and slithered away.
"He was chilling out for a few minutes then went off back into the bush," McKenzie said.
McKenzie may rescue snakes for a living, but it's not often he gets to meet one who's such a character — and actually wants to stick around for a while and become friends.
You can watch the full video of this snake rescue below: