Snake Makes Himself At Home In Pile Of Wires That Look Just Like Him
So sneaky!
When a family in Edens Landing, Australia, noticed there was a snake in their garage, they were eager to help the little guy get out safely. Unfortunately, as soon as the snake realized he wasn't alone, he tried to hide — and chose a spot where he hoped he would never be found. 
Gold Coast and Brisbane Snake Catcher
The family had a large pile of electrical wires stored in their garage, and the snake headed right for them. Once he was nestled in the pile, it was impossible to tell what was a wire and what was a snake. The family knew there was no way they'd be able to get the snake out of there without a little help, so they contacted Tony Harrison of Gold Coast and Brisbane Snake Catcher. 
Gold Coast and Brisbane Snake Catcher
Harrison, accompanied by his family, headed out to the home and immediately knew he was in for a bit of a search when he saw where the snake was hiding. The pile of wires was huge and many of them were black, just like the little snake. Still, Harrison was determined and began the process of sifting through the pile.
After a while, as Harrison got to the bottom, he suddenly spotted the sneaky snake.
Gold Coast and Brisbane Snake Catcher
"Oh hey, little man," Harrison said in a video of the snake rescue. 
After a little more maneuvering, Harrison was finally able to grab the snake and lift him out of the pile of wires. Everyone could see that although he was a feisty little thing, he was completely harmless, and Harrison and his family gently put him in a bag so they could take him somewhere safe to be released.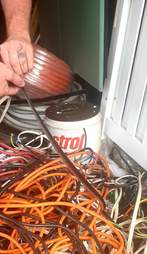 Gold Coast and Brisbane Snake Catcher
The family was so grateful to Harrison for rescuing the snake from their garage — and may want to rethink the giant pile of wires in the future. It's definitely the perfect hiding place for snakes.