Rare 'Smiling' Porpoises Could Soon Be Gone Forever
It's not too late — here's how to help.
In the freshwaters of China's Yangtze River, a beloved — and undoubtedly adorable — species of porpoise has been quietly slipping away.
Named for its river home, the Yangtze finless porpoise is the only species of its kind still surviving in those waters after its close cousin, the baiji dolphin, was officially declared extinct in 2006.
Baijis were the first dolphins in history to go extinct directly because of human activity — they ran out of food due to overfishing in the region. Conservationists worry the smiley, intelligent Yangtze finless porpoises may be next if their home continues to be threatened.
WWF
Much like their baiji dolphin cousins, the Yangtze porpoises are steadily losing their food supply due to an overabundance of fishing operations throughout their river home.
Fishing companies also often kill the porpoises by accidentally catching them in their large gillnets, or striking them with boats.
These destructive fishing companies have been the leading cause of their decline.
WWF
"The news has not been good," Judy A. Takats, a lead of river basin stewardship at World Wildlife Fund (WWF), told The Dodo. "The Yangtze finless porpoise was once a common sight, but its population has decreased an average of 13.7 percent annually in recent years … If these threats were not eliminated or minimized, it was thought the porpoise may become functionally extinct by 2025."
Luckily, WWF has been working over the past 25 years to reconnect nearby lakes to the main river — which allows the porpoises to have remote areas where they can migrate and hunt for food. This will, hopefully, create safe zones for the porpoises to move into.
WWF
In one case back in the '90s, WWF was able to relocate small groups of porpoises into the Tian-e-zhou Oxbow Lake, which is part of nearby protected wetlands. The minimal risk of human interference at the lake has made a major positive impact.
"Since the first group of five porpoises were transferred to the [lake] in 1990, their numbers have increased to about 75," Takats said. "These animals are not only able to survive, but can also reproduce naturally in this reserve."
This means that conservationists may be able to replicate this program in other lakes surrounding the river to further increase the finless porpoise population. They're currently classified as critically endangered, with a total population of under 1,800.
WWF
Every small effort helps — so teams are constantly patrolling the riverbanks for litter or discarded nets that could pose a threat to the porpoises, and working with fishermen to help decrease the risks they pose through fishing activities.
With enough help, these porpoises will be flashing their toothy "grins" for years to come — but they aren't out of the woods quite yet.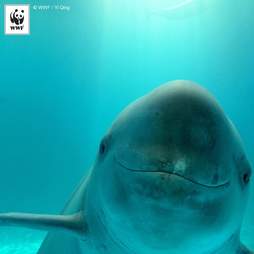 WWF
"People really do want to see the porpoise thrive in the Yangtze River," Takats said. "That's why we're leading initiatives that keep rivers healthy, well-connected and flowing … That being said, we can't take our foot off the gas for a moment."