Tiny Animals Were Crammed Into Box So Tightly They Could Barely Breathe
These slow lorises were stolen from the wild and shipped hundreds of miles — and it happens all the time.
Rescuers found it hard to believe the slow lorises had managed to survive.
Last week, an illegal wildlife trader in Indonesia shoved nine critically endangered slow lorises into two plastic mesh boxes covered in cardboard. Then the trader taped up the boxes and sent them via a delivery service on a train, which would have ended up in China.
The boxes had a few air holes poked through the cardboard, according to International Animal Rescue (IAR), a group that helped save the animals, but the slow lorises were packed in so tightly, they couldn't get much oxygen. They had no food and water. And many had sustained injuries.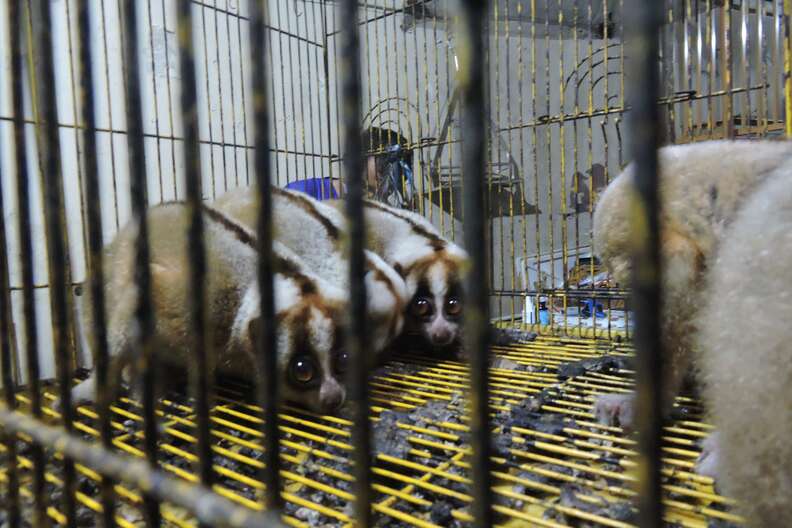 "They had been fighting each other for space and some had bite wounds," Lis Key, PR and communications manager for IAR, told The Dodo. "They were clawing at the sides of the boxes and emitting small pitiful cries of distress. The boxes were covered in urine and feces, which I think was not just an indication of how long they had been kept shut up, but also a sign of the distress they were in."
On top of everything else, three of the slow lorises had had their teeth removed, which makes them easier to handle when they're being sold into the pet trade or for human entertainment.
Not only is this process incredibly painful, but without teeth, slow lorises no longer have a way to defend themselves or eat, which may make it impossible for them to be released back to the wild.
"Our vets will certainly do their best to repair the damage done to their teeth and gums," Key said. "Some may be candidates for release back into the forest, but if there are others that won't be able to feed and fend for themselves back in the wild, they will have a permanent home at our rehabilitation centre in Bogor, West Java."
Sadly, slow lorises are frequently stolen from the wild and sold into captivity — and it's driving the animals to extinction, according to IAR.
"Hundreds of these protected primates are sold each year in Indonesian pet markets and now also increasingly on social media," Karmele Llano Sanchez, program director for IAR Indonesia, said in a statement. "On average three slow lorises are taken from the wild each day to supply the illegal pet trade and of these, one is likely to die before it is even sold."
In addition to the slow loris, police found a box containing a very frightened wreathed hornbill, an Asian bird with a long beak.
A different type of hornbill — the helmeted hornbill — is commonly hunted for its red beak, which is sold as "red ivory" on the black market in Asia, and used to make luxury items. While no one knows exactly why the wreathed hornbill was being transported to China, Key suspects buyers wanted the use the bird's bill for traditional medicine.
The wreathed hornbill was sent to a bird rehabilitation center, where his health will be tended to, Key explained.
"If he has been in captivity for any length of time, he may have become used to humans, in which case it may take time to encourage him to revert to his natural behavior," Key said. "We all have our fingers crossed that he will be a candidate for release. It is always a tragedy when a bird is robbed of its ability to fly free as nature intended."
As for the slow lorises, they're getting emergency treatment at IAR's rehabilitation center — and the team is determined to do everything they can for the animals.
To help the slow lorises and the hornbill make a full recovery, and get these animals back to their wild homes, you can
make a donation to IAR
.