Police Bust Smuggler — And Find Box Full Of Cowering Animals
He was trying to sell them on Facebook.
Police just busted smugglers who had been using Facebook to sell scared animals they stole from the wild as pets. 
The bust occurred in Indonesia last week, in West Sumatra, where police arrived just in time to save lives.
IAR
IAR
Nine slow lorises, including a mother trying to protect her baby, were found packed into boxes on their way to lives in captivity.
Slow lorises are endangered precisely because of this rampant pet trade that still goes on even though it's illegal.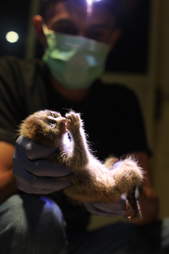 IAR
"Our agents have taken both the animals and perpetrators into custody," Khairul, investigator with local law enforcement, said in a release. "The suspects are liable to prosecution and will receive legal charges."
Sadly, one slow loris couldn't be saved — because he was stuffed in such a small, airless box, it's thought he suffocated. But the other lorises will have a chance at real lives in the wild again, thanks to International Animal Rescue (IAR), which placed them in a nearby wildlife rehabilitation center.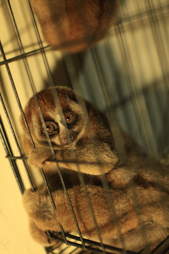 IAR
"The lorises are in reasonable condition, even though they were found in severe distress," Imam Arifin, wildlife veterinarian a wildlife veterinarian with IAR, said. "They still display wild behavior indicating that they might have been recently captured from the wild. Their teeth are also still intact, so they can be safely released soon."
Often slow lorises have their teeth torn out to make them safe for people to handle. Some slow lorises even die from the procedure, because it's done by traders who don't bother sterilizing their instruments. If these lorises had undergone such a procedure, their release back into the wild would have been impossible.
IAR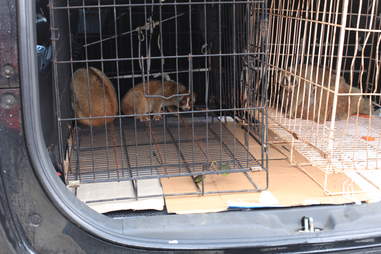 IAR
"To keep wildlife in captivity is ... responsible for the death of many animals that will no longer be there for our future generations," Edward Hutapea, head of the Environment and Forestry Protection and Law Enforcement Agency in Pekanbaru, said, urging anyone in the region with wild animals to surrender them to the authorities so they can get the help and care they need.
But saving slow lorises can also happen online. According to IAR, the last few years have seen a boom in smugglers using social media to sell the animals they've stolen from the wild. "Facebook amongst other social networks, is one of the most popular, and is considered a safe means to offer and sell wildlife," IAR said. And this drives the demand for these "pets" up.
IAR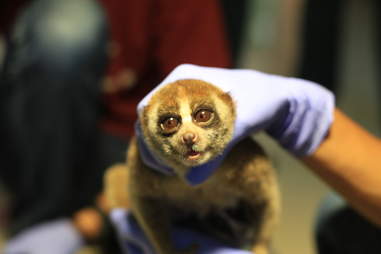 IAR
"With the increased use of social network for wildlife trafficking, we have also seen an increase in the demand for wildlife and wildlife products by the general public," Christine Rattel, program advisor at IAR Indonesia, said. "It's increasingly challenging to tackle wildlife trade networks and it's up to the civil society to reduce the demand in wildlife and to give all animals a chance to survive in the wild."
If you think you see wild animals being sold on Facebook, you can
report it
. You can also help animals saved from the illegal wildlife trade by
donating to IAR
.