A woman and her brother were out for dinner at a restaurant in Thailand when she spotted something strange.
A scared little animal with wide curious eyes was chained by the neck near the kitchen. Just then she realized that this restaurant was known for cooking wild animals snatched from the forest. This Bengal slow loris was next.
The woman offered to buy the little animal to spare his life. And the restaurant accepted her offer.
She considered for a moment keeping him, but learned that having a slow loris as a pet is actually illegal. Because of their naturally adorable little faces, so many slow lorises are stolen from the wild to be sold into the pet trade. Viral videos of slow lorises responding to "tickling" — something they actually experience as torturous — have not helped curb the demand for slow lorises as pets.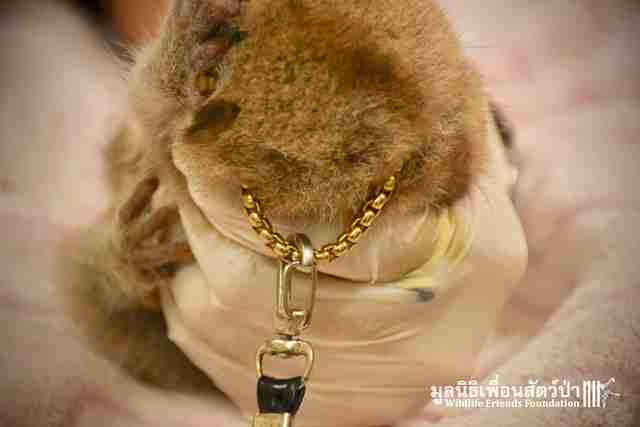 The woman decided to do the right thing. She found a local wildlife rescue organization, Wildlife Friends Foundation Thailand (WFFT), and brought the scared little loris straight there, where he became known as Kermit.
"When she saw Kermit, her heart melted and she decided to help him," WFFT wrote.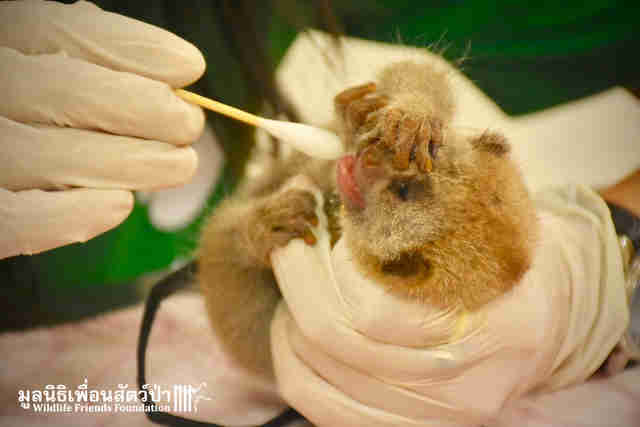 The first thing rescuers at WFFT did was try to make Kermit feel safe. They set to work gently cutting off the chain latched around his neck.
Kermit will be observed by rescue workers to ensure he's healthy before he's released back into the wild.