Exhausted 'Pet' Hadn't Had Anything To Eat In A Month
"We were all shocked."
When a woman arrived at a wildlife hospital in Thailand, she was carrying something truly chilling.
She told the people at Wildlife Friends Foundation Thailand (WFFT) that she had received a gift last year; a relative from the southern region of the country had brought two animals up and given them to her.
Since then, she'd been keeping them in her house as pets. She named them Phet and Reang. They were Sunda slow lorises, and the moment they became pets they started slowly wasting away. 
WFFT
By the time their owner brought Phet and Reang to WFFT, they were in terrible shape, emaciated and very weak.
"They were kept in a small cage in her house for a year until they both became very sick," WFFT wrote. "At this point she realized that she should not keep them as pets. The lady said she had fed them a diet of fruit, and one of them had not eaten for a month ... We were all shocked."
WFFT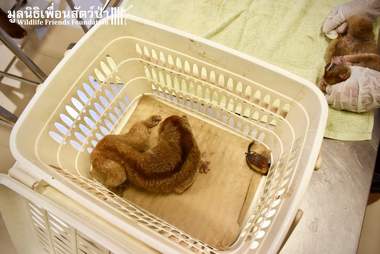 WFFT
Thankfully, Phet and Reang's owner finally realized she couldn't care for them, and so now the experts at WFFT are trying to save their lives, one piece of fruit at a time.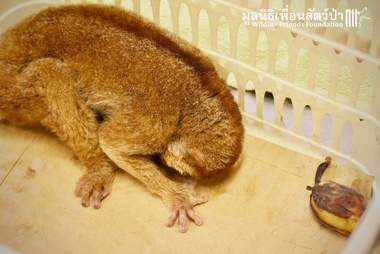 WFFT
"For now, the stronger of the two lorises is doing well, the weaker one is still not eating but is receiving round-the-clock care from the WFFT vet team," the rescue wrote.
Beyond hoping to save these two little lives, the team also hopes that Phet and Reang's plight will help people realize just how much suffering slow lorises kept as pets can go through. "Is this stark reality enough to kill any urge of wanting to keep a loris as a pet?" WFFT wrote. "These poor souls have gone through hell."
WFFT
Even though they have a long recovery ahead of them, Phet and Reang seem to be starting to realize that they're finally in safe hands.