Man Hears Crying From Well — And Finds Someone Who Needs His Help
It was a huge bear — and he'd fallen 40 feet 😱
Someone was crying — and it sounded painful.
The man who heard the cries stepped out of his home and searched his property. When he approached the 40-foot well near the forest, he found the source of the cries — a sloth bear was lying on the dirt floor of the well.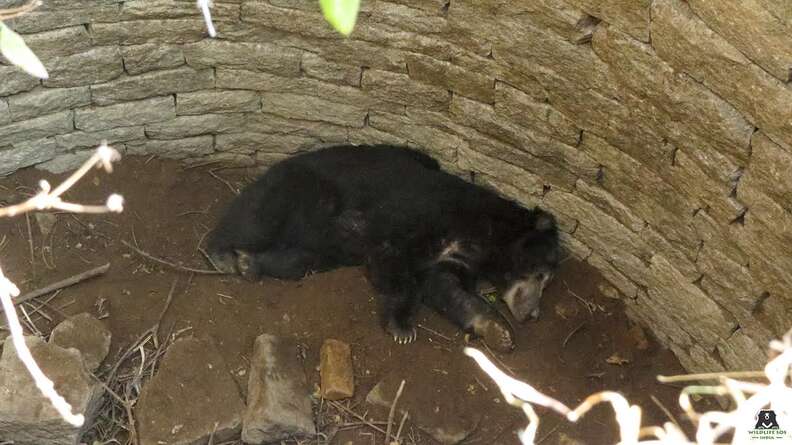 Shocked, the man immediately phoned the local forestry department in Tumkur, India, which called rescue group Wildlife SOS for help — and a team rushed to the bear's aid.
"The bear looked really scared and shaken as he was in an unfamiliar environment and could also sense a huge crowd gathered outside the well," Suvidha Bhatnagar, communications and fundraising officer for Wildlife SOS, told The Dodo. "We could only calm the bear down once the well was covered with a piece of tarpaulin."
The bear, who's estimated to be 10 to 15 years old, had probably fallen into the well while trying to eat some honeycomb near the well's edge. Unfortunately, sloth bears are finding it harder and harder to find food as people tear down the forests to build houses and farms.
The rescue team mildly sedated the bear, then draped a net around him and hauled him up to safety. Thankfully, the bear didn't appear to have any major injuries.
"This was the most rewarding part of the rescue because the bear was safe and unhurt," Bhatnagar said. "We weren't surprised that the bear wasn't severely injured because usually when bears fall from a height, they curl their whole body into a ball, which ensures minimum damage. Also, the mud flooring in the well helped avoid major injuries."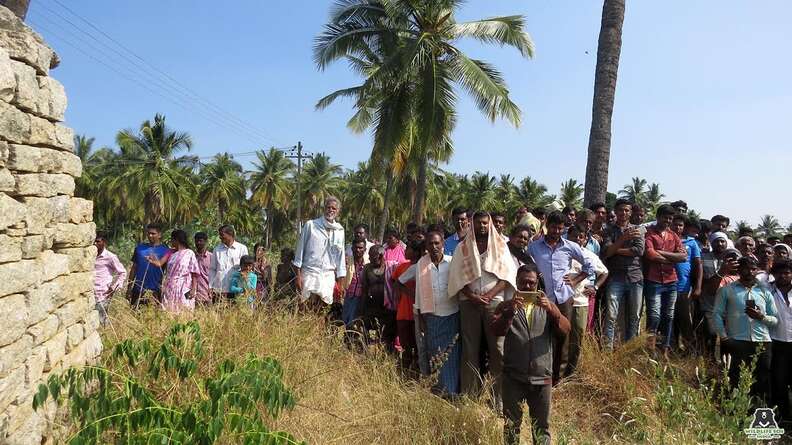 Since the bear was in good health, the rescue team released him back into the forest as quickly as possible.
"At first, the bear couldn't comprehend what is happening, but seconds later he ran into the forest looking quite relieved and ecstatic," Bhatnagar said.
While this bear was lucky not to have been injured from the fall, wells are becoming a big problem for animals in India — sloth bears, leopards and other animals regularly fall into them.
"There has been a significant increase in such occurrences," Arun A Sha, director of veterinary operations at Wildlife SOS, said in a statement. "Uncovered wells pose a huge risk to safety of people and animals. Wildlife SOS urges people to cover open wells, to avoid such accidents."
"Our team has been conducting awareness programs across the villages to educate the local farming communities and to increase tolerance for coexistence with wildlife," Bhatnagar said. "We have started ... to take measures to cover or fence off the wells, or even construct safety walls so that people and wild animals are not further jeopardized."