Bear With Saddest Past Can't Stop Playing With His Brand-New Toy
"Mowgli's story was one that had us all in tears."
For Mowgli the bear cub, life with Mom was all he'd ever known.
When he got tired, she would carry him on her back. When he was hungry, she was always there to nurse him. And soon, as he got bigger, she would begin teaching him all there was to know about being a bear.
But after only 10 weeks together, all of that was gone. Mowgli's mom, with her baby on her back, ventured out of the safety of Sanjay-Dubri National Park in search of food — and walked into a trap of electric wires set by poachers.
The volts paralyzed her instantly, and she was lifeless by the time forest officials found her. But baby Mowgli still wouldn't stop hugging her chest.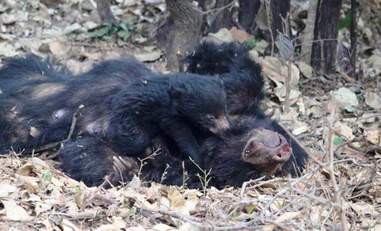 Mowgli clutching to his mom's chest

| Wildlife SOS
"Mowgli's story was one that had us all in tears," Arinita Sandilya, press officer for Wildlife SOS, told The Dodo. "[He] miraculously survived, despite minor burns on his forehead and back."
Little Mowgli was taken to Wildlife SOS' Agra Bear Rescue Facility to be treated and raised by the team's veterinarians.
Wildlife SOS
It took months of special milk formula, monitoring and care for the little bear to survive. He was so small then — but after everything he'd already been through, he had such a will to live.
He was a survivor.
Now, over a year since his rescue, Mowgli isn't so little anymore. He's healthy, strong and spends his days exploring his sanctuary home without a worry in the world.
"Young Mowgli's transformation since then has been tremendous," Sandilya said. "He has grown much stronger with the constant care of his keepers and our veterinarians, along with healthy and nutritious food that gobbles with gusto."
Wildlife SOS
Naturally, Mowgli's favorite things to do are play and eat. And he's particularly happy whenever he gets to go swimming.
"He has also developed a newfound fondness for the pool," Sandilya said. "He spends hours splashing about in the water to beat the heat."
And when Mowgli plays with his favorite ball, it almost looks like he's grinning.
Mowgli playing with his ball

| Wildlife SOS
Once Mowgli is old enough, he'll be integrated into a living group alongside other rescued sloth bears. But for now, he's still able to socialize with his bear neighbors from the fence of his enclosure.
While Mowgli is doing so well now, his devastating start to life means that he won't ever be released to the wild. Mother sloth bears stay with their cubs for the first two years of their lives to teach them important survival skills — but since Mowgli lost his mom so young, he wasn't able to learn.
Luckily, Mowgli ended up in the best hands possible — and he'll be happy for all of his years to come.
Mowgli playing with his favorite ball

| Wildlife SOS
"Despite being hand reared by our staff, Mowgli remains a wild bear at heart and is truly in his element when he is left outdoors with all its exciting smells and sounds," Sandilya said. "Watching Mowgli make such a remarkable recovery and grow more confident by the day is truly encouraging. We are glad to be a part of this loveable little bear's rescue and rehabilitation journey."