Mike Staley was walking to his office in Hong Kong when something stopped him in his tracks. Out on the street, a man poured hundreds of shark fins out of a large white sack so the fins could dry out in the sun.
"This is one particular trader who I walk past every single morning when I walk to work, and one morning, he had a new shipment of shark fins," Staley, a New Zealander who's lived in Hong Kong since the 1980s, told The Dodo. "I just instinctively pulled my camera out out of shock and horror."
The fins had come from living, breathing sharks — fishermen cut the fins right off the animals' bodies, then tossed them back into the water. But without their fins, sharks can't move or breathe, and they slowly and painfully suffocate to death.
Why do people want shark fins? The answer is found in the murky broth of shark fin soup, a specialty dish served at weddings and banquets that can cost more than $100 USD per bowl.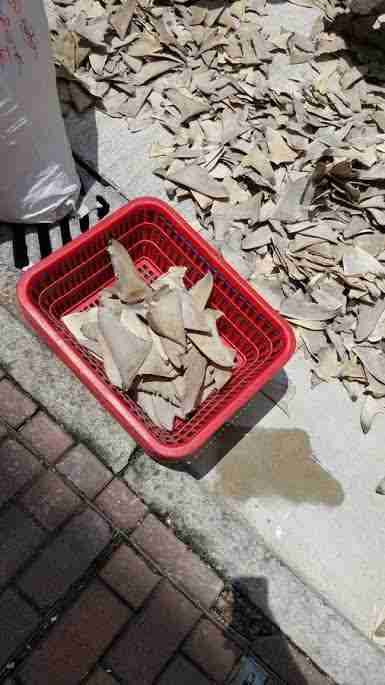 As upsetting as it was to see all of the shark fins, Staley, unfortunately, was very used to the sight. In the Sheung Wan district of Hong Kong, where Staley's office is located, hundreds of shops sell shark fins and other dried seafood products, such as sea cucumbers, seahorses and abalone.
"The volume of trade is phenomenal [in Hong Kong]," Staley said. "Phenomenal in a bad way."
Staley sent the images to Gary Stokes, the Southeast Asia director of Sea Shepherd Global, who's spent years working to stop the global shark fin trade, which is responsible for the deaths of 73 million sharks every year. Stokes has also lived in Hong Kong for the past 26 years, so, like Staley, he's fairly accustomed to seeing large shipments of shark fins.
"Does it shock me?" Stokes told The Dodo. "No. It's like being a soldier of war. The first time you see someone getting killed, it's shocking. After you've seen a hundred of them, it's not so shocking anymore. But it's still just as bad."
In Hong Kong, it's legal to buy and sell shark fins, although 12 shark species are currently protected under Appendix 2 of CITES, which regulates their trade but doesn't make it illegal to kill them.
That said, Stokes explains that it's technically illegal to dry shark fins on the street — not only does it block the road, but it's a health hazard.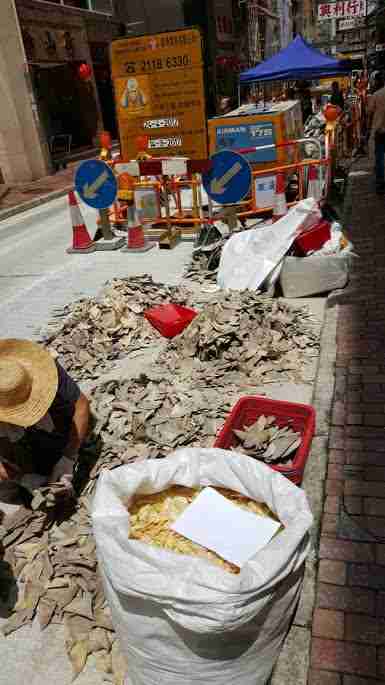 "Shark fin is a food ingredient for human consumption, and it's illegal to prepare a food item in a non-licensed food kitchen," Stokes said. "And it's being prepared on the street, which is not hygienic because you've got dogs and bird poop and rat poison and cigarette butts around it."
Whenever Stokes finds traders drying shark fins on the streets, he reports it to the Hong Kong police. But unfortunately, the police don't do much.
"First-time offenses get a verbal warning," Stokes said. "Apparently a second warning needs to be from the same officer. It seems bizarre."
Despite the large scale of the trade — and his frustration with the police's reluctance to persecute traders who dry fins on the street — Stokes is hopeful that things will change in Hong Kong, as well as the rest of the world.
Earlier this year, Stokes and a team of investigators discovered that shipping companies like Maersk, Virgin Australia Cargo and Cathay Pacific were carrying shark fins, despite previously placing embargos on them. When Stokes approached the shipping companies about this issue, the companies started enforcing tighter regulations on imports coming into Hong Kong, and Stokes believes this has made a difference.
"I haven't seen any more Maersk containers outside of that shop," Stokes said.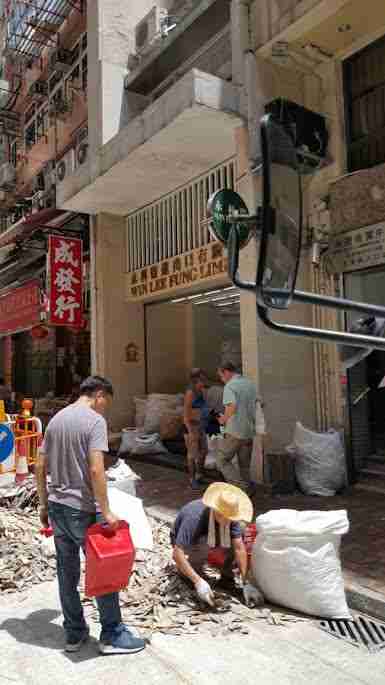 Authorities are also getting better at catching people who kill sharks illegally. Earlier this month, Ecuadorian police caught Chinese fishermen with 6,600 sharks that they'd illegally killed in a marine reserve in the Galápagos Islands. Now the fishermen are headed to jail.
"There are a lot of victories going on, but it's a constant battle," Stokes said. "And we will win it, but will we win it in time for the sharks?"
Another victory is pending in the U.S. — animal advocates and policymakers are working hard to get Congress to ban the trade of shark fins in all 50 states.
"There is a chance right now for a real win for sharks," Lora Snyder, shark campaign director for Oceana, told The Dodo. "Congress is on the verge of passing a bipartisan bill, the Shark Fin Trade Elimination Act, which would ban the trade of shark fins in the United States. A nationwide ban on the trade of fins would send a message to other countries that the United States recognizes the demand for fins as one of the greatest threats facing many shark species, while also reducing the international trade and reinforcing the status of the United States as a leader in shark conservation."