Tiny Seal Tangled In Fishing Net Gets Help Just In Time
This happens so often 💔
She went to the beach to clean up litter — and ended up saving a life.
On a beach in Victoria, Australia, earlier this week, Erin Sonego was out collecting litter from the shores when she stumbled upon what appeared to be a bundle of blue rope sitting in the sand.
As she got closer, she realized it wasn't just garbage. A tiny fur seal was trapped in the net — and he was barely able to move.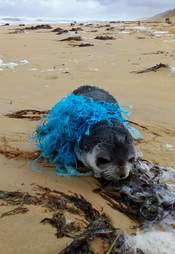 Maddy Bagg
"He had part of the rope threaded through his mouth," Sonego said. "And the rest was bundled around his back, so he obviously hadn't been able to feed."
Sonego jumped into action, calling local wildlife rescuer Maddy Bagg for help. Bagg rushed to the scene to disentangle the animal, along with officer Mandy Watson of the Victoria Department of Environment, Land, Water and Planning.
Maddy Bagg
To keep the seal calm, the team wrapped him in a blanket and carefully cut through the net with a small blade. It was bound tightly around his body, but it luckily hadn't started to dig into his skin and cause wounds.
After a few minutes of work, the seal was free from the tangled clump of netting — and he was so happy.
Maddy Bagg
Once the women released him from the bundle of blankets, he waddled off to the shore and started grooming himself.
Although the seal appeared slightly underweight and tired due to being tangled, the team assessed that he was free of injury and otherwise healthy.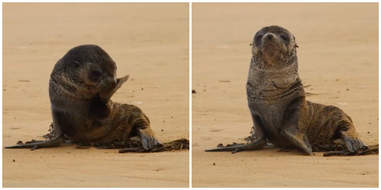 The little seal grooming himself after being freed

| Facebook/Good Will Nurdle Hunting
Thanks to these kind residents, this young seal got a second chance at life — but so many other animals aren't as lucky. Billions of pounds of garbage enter the world's oceans each year, endangering the lives of both land and sea animals.
Many animals end up eating or becoming tangled in the trash, which often leads to sickness and death. On this beach alone, Bragg and Sonego collected a wagon's worth of trash in just a few minutes.
Some of the garbage collected off the beach that day

| Maddy Bagg
On this beach alone, Bragg and Sonego collected a wagon's worth of trash in just a few minutes.
Picking up the mounds of litter makes a big difference for the animals who live there — but this time, they saw impact right before their eyes as the little seal rushed back to the waves.
"The amount of rubbish, plastic and bits of rope that we picked up in a 200-meter radius of this little guy was just appalling," Bagg told The Dodo. "But hopefully after a bit of rest and a good feed, he will be off to join his friends again."
To help reduce the risk of trash on animals near you, take part in
International Coastal Cleanup Day
on September 15 at your local beach or riverfront. You can also help year-round by joining a cleanup group, or starting one of your own with friends.