Seal Spent 6 Months With A Frisbee Trapped Around Her Neck
She's a trooper — and she feels so much better now.
After a curious seal managed to get a frisbee stuck around her neck, rescuers from different groups tried for months to catch her in order to remove it — but nobody could get close enough. As the months passed, the seal grew, and the frisbee became more and more embedded in her neck, until finally she could barely eat or drink because of it.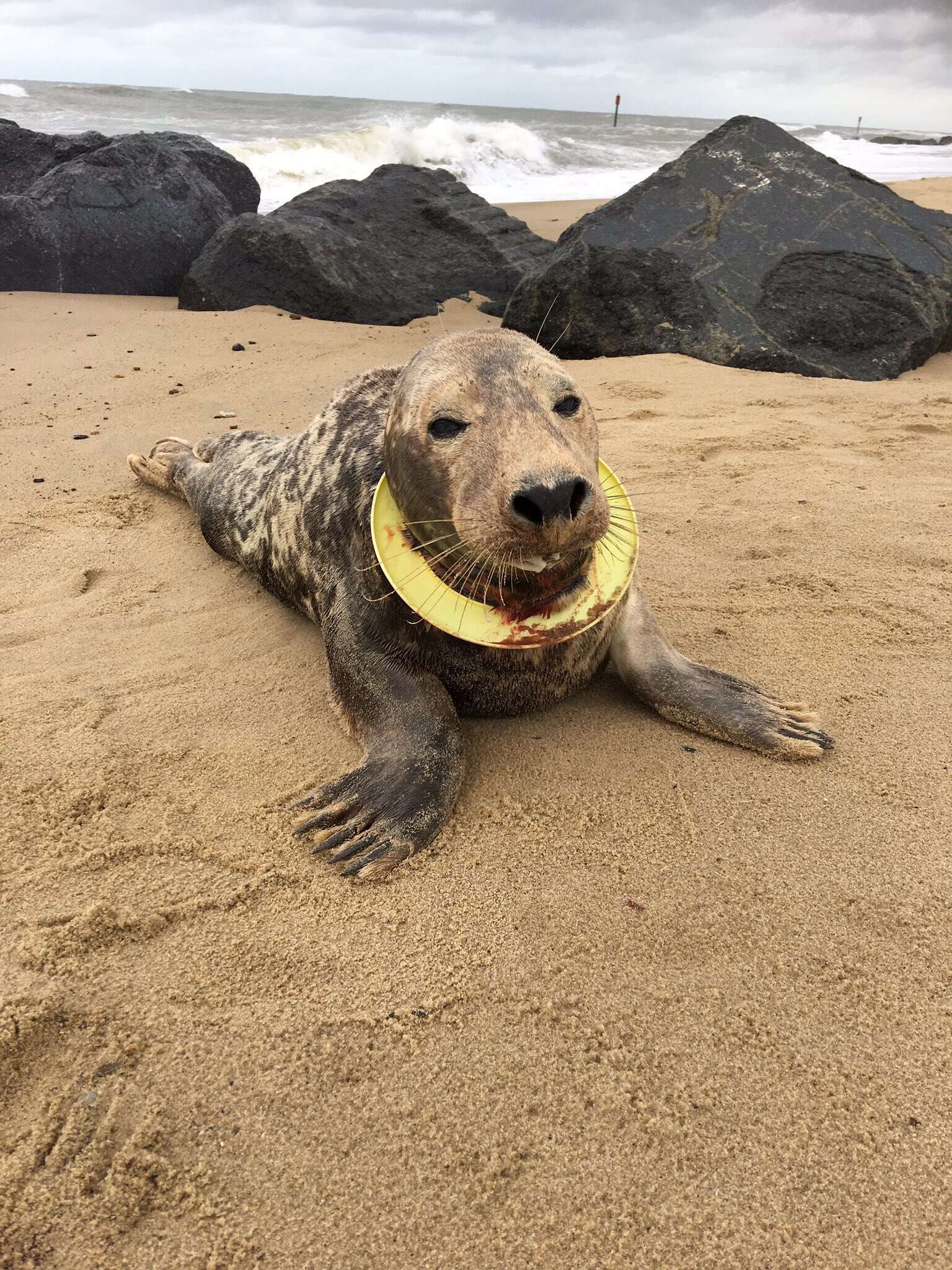 The poor seal had the frisbee stuck around her neck for nearly six months, before she finally stopped to rest away from other seals on Horsey Beach in Norfolk, England. Some beachgoers spotted her and contacted rescuers at Friends of Horsey Seals, who immediately came out to the beach. They were able to sneak up and grab her using a net. At that point, the seal was so weak that she barely put up a fight, and she was taken in by the RSPCA's East Winch Wildlife Center.
Once she was in the care of the RSPCA, rescuers were able to remove the plastic frisbee from the seal's neck and quickly set about treating the deep wound it had created. They decided to name her Frisbee, of course, and crossed their fingers that the sweet seal would be able to recover from her ordeal.
"Poor Frisbee was extremely emaciated when she first came to us as she just wouldn't have been able to feed due to the restriction around her neck caused by the yellow frisbee," Alison Charles, manager at the RSPCA's East Winch Wildlife Center, said in a press release. "We'd never actually seen such an extensive wound, and to be honest, we just didn't think she would be able to recover from it."
Miraculously, though, Frisbee has been recovering nicely, and while she still has a long way to go, it seems as though she's going to make a full recovery. Her appetite has completely returned, and she's becoming livelier by the day.
"She is certainly making up for it now and is eating us out of house and home," Charles said. "She's a big seal and she's getting through a huge amount of fish every day. But it is great to see. Even now, almost two months on, her wound is still very visible and still has a long way to go before fully healed, but the good news is it is granulating well with antibiotics. She's now been moved to an outside pool as she has improved so much and needs more space."
Frisbee has been at the RSPCA since mid-September, and likely still has months to go before she can be released back into the wild. When she was rescued, the poor seal was on the brink of death, and the fact that she was able to come back from that has shocked her rescuers. Hopefully she will continue to recover until her wound is completely gone, and she can rejoin her family out in the ocean once again.
"We are doing all we can to get Frisbee back to the wild, and while she is doing so well, the wound is still deep and vulnerable to infection," Charles said. "It is heartbreaking to think that this could have been prevented if people just took extra care with their litter on the coastline. Many people are just unaware of the problems discarded litter can cause for our wildlife."