People Keep Killing Sea Lions Just For Trying To Feed Themselves
It's illegal — but they keep washing up.
Sea lions are social creatures who love swimming and snuggling with their large, extended families. But these friendly animals are in an increasing amount of danger simply for feeding themselves and their families.
In the last three months, 13 dead sea lions have washed ashore at Puget Sound, near Seattle, Washington. Eight of them had been shot with a gun, and the remaining five had other wounds likely inflicted by people, including one who'd been decapitated. While no individuals have yet been found responsible, animal welfare advocates suspect local fishermen are the culprits.
In every corner of the world, fish stocks are going down due to overfishing — yet fishermen often blame sea lions, who tend to eat the same fish, such as king salmon, that the fishermen are trying to catch and sell.
"Fishermen generally hate sea lions and seals because they don't understand the relationship between pinnipeds and a healthy fish population," Paul Watson, founder and president of Sea Shepherd, told The Dodo. "If you want a healthy fish population, you need a healthy marine mammal population. They perceive that all fish belong to them, and anything that's in competition for the fish needs to be eliminated."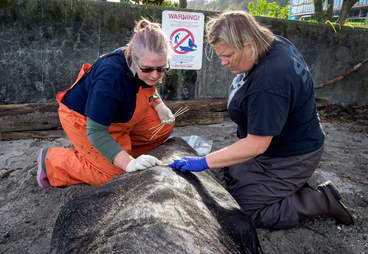 Dyanna Lambourn of WA Department of Fish and Wildlife Marine Mammal Investigations Unit (left) and Casey McLean of SR3 examine the entry wound from a bullet on a dead California sea lion in West Seattle.

| Robin Lindsey
It's actually illegal to harass, hurt or kill sea lions, who are federally protected under the U.S. Marine Mammal Protection Act (MMPA), and anyone caught harming them could face a fine of up to $28,520 and a year in prison.
Yet this hasn't stopped the people responsible for killing the sea lions this year. In fact, the Seal Sitters Marine Mammal Stranding Network, a volunteer group that helps stranded animals, believes the situation is about to get even worse.
Seal Sitters MMSN Co-Investigator Lynn Shimamoto responds to a dead California sea lion in West Seattle.

| Robin Lindsey
"Sadly, this is just the beginning of what is likely to be a very deadly fall and winter season for sea lions and seals," the group wrote in an online blog. "Shootings not so coincidentally increase in correlation with fish runs, year-round. According to those who live and work along the Elliott Bay and Duwamish waterfront, shots are being heard even more frequently this year. Animals searching for food to survive and fishermen searching for fish for consumption or livelihood are on an annual, never-ending collision course."
A sea lion eating a fish

| Shutterstock
Shutterstock
Sea Shepherd has put out a reward for information that could lead to the arrest and conviction of the individuals involved, and Watson is hopeful they'll eventually find the people who did it. Watson is also hoping that fishermen learn to live and work alongside sea lions, rather than view them as the enemy.
Shutterstock
"It would be good for people to educate themselves on just what the relationship is between marine mammals and fish," Watson said. "Seals and sea lions eat fish, but they also eat fish that prey upon other fish, and sometimes when you diminish a marine mammal population, you increase predatory fish that feed on other species. It's a very delicate relationship. For instance, on the east coast of Canada, the harp seals prey upon mackerel and small fish, and those small fish actually eat the baby codfish [which are sought by fishermen]."