It was just after 2 a.m. last Friday night when an on-call radiologist in Sitka, Alaska, was driving to work at the local hospital.
While people living in Alaska are used to living in close proximity to all kinds of native wildlife, as Eric Radziukinas made his way down the dark road, he glimpsed something truly puzzling.
A coworker, Nicole Balovich, who uploaded the video he shot to Facebook, wrote that Radziukinas "thought it was a bear at first. Good thing he got it on video, no one would have believed him."
The animal was about 6 feet long, roughly 1,500 pounds and about a quarter of a mile from the water.
It was an adult sea lion — and it was very unusual for an animal like this to find his way so far onto dry land.
After the sighting on Friday night, the sea lion continued to wander around lost and disoriented for days, while more and more people — including the local fire department and federal officials — stepped in to figure out how to get him back to the water.
On Saturday morning, he was spotted sheltering by an old dormitory of a local high school.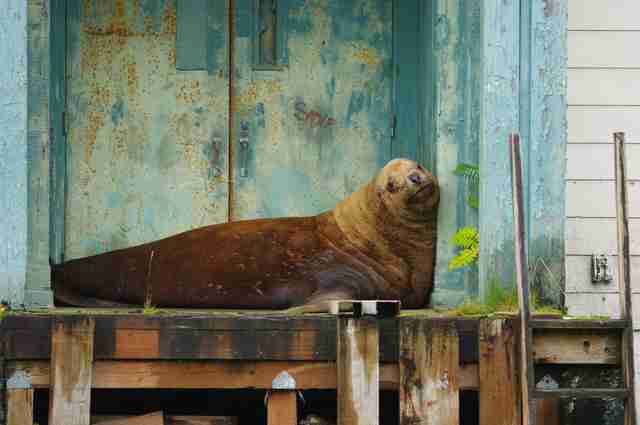 The large animal began to draw crowds, which drove him further into hiding. Officials put out an announcement on on Twitter asking people to keep away from the animal so he could have time to relax.
"NOAA is asking the public to clear the area in Sitka where a male Steller sea lion is in distress, and is hiding in the woods; the incident is drawing onlookers," NOAA tweeted. "Please, for your own safety and the well-being of the animal, if you are in the area, leave. Thank you!"
While officials tried to lead the sea lion back to the water, he seemed too spooked or disoriented by the road that cut through the path to the water. And so, since he appeared healthy enough, officials decided on Monday to sedate him.
They loaded the sleeping sea lion onto a truck and gave him a lift back to the water.
Video captured on Monday shows the sea lion, after waking up, making his way back to the water.
"The sea lion was returned to the ocean today with assistance," the Sitka Volunteer Fire Department wrote on Facebook. "A video was put on Facebook of him going into the ocean and swimming away ... He is home."