Scientists Flip Out When 'Ghost' Shows Up On Deep-Sea Camera
"Oh oh oh oh, look!" 👻👻👻
Something almost otherworldly just popped up on a camera plunged thousands of feet deep into the ocean — and people watching couldn't contain their excitement.
YouTube/EVNautilus
At first glance, in the distance, the creature almost looked like a ghost — but scientists had a feeling it was actually a beloved animal named after a cartoon elephant.
"Oh oh oh oh, look! We've got a little octopus up in the column there," one of the scientists with the expedition exclaimed.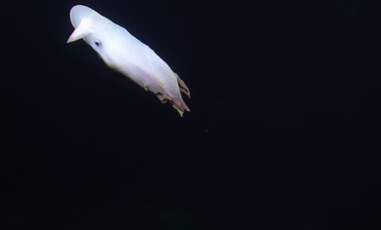 YouTube/EVNautilus
"That's a dumbo!" another scientist said.
"The world loves a dumbo," another added.
The dumbo octopus, whose official scientific name is Grimpoteuthis, has two little fins that resemble Dumbo's giant ears. And as the scientists took photos of the octopus, they continued to giddily admire his eerie beauty.
"The genus on this is Grimpoteuthis," one scientist said.
"Grumpy tooth?" another quipped.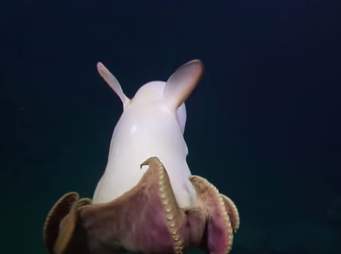 YouTube/EVNautilus
YouTube/EVNautilus
Cephalopods are not only known for their fascinating good looks — they are also famously intelligent, inspiring scientists and philosophers to study and think deeply about the animals. Contemporary philosopher Peter Godfrey-Smith claims that encountering an octopus is the closest we humans may ever come to meeting an intelligent alien.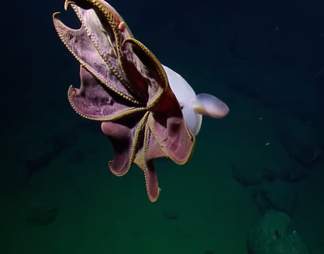 YouTube/EVNautilus
The scientists with E/V Nautilus certainly seemed grateful for the encounter, and reticent about moving on to explore other deep sea mysteries.
"We've only got about 30 more seconds," one scientist said.
"I'll take every second I can get with this guy," another replied.
YouTube/EVNautilus
"I love me a good cephalopod!" another exclaimed.