People Look Down Pipe And Can't Believe Who's Stuck Inside
Baby jackals 😍😍😍
At first glance it might seem like just a regular clearing in a construction site.
But the developer who owns a plot of land in Johannesburg, South Africa was recently walking through and he looked down into one of the pipes, which was plunged about 5 feet into the ground. That's when he realized he needed to call for some expert help.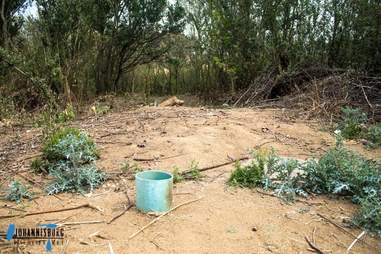 Ashleigh Pienaar/JWVH
Two tiny black-backed jackal pups were totally stuck in the pipe, meant to drain storm water off the site.
All kinds of wildlife, including jackals, who live near human developments can end up being adversely affected by things like open pipes and wells.
Ashleigh Pienaar/JWVH
The siblings couldn't get out by themselves, and their concerned mom was waiting nearby.
When the call came in at Johannesburg Wildlife Veterinary Hospital (JWVH), the wildlife vets jumped at the chance to rescue the pups.
Ashleigh Pienaar/JWVH
"[The developer] phoned us and Nicci Wright went along with nets and a noose on a pole," Dr. Karin Lourens, a veterinarian at JWVH, told The Dodo.
Wright is a wildlife rehabilitation specialist at JWVH. When she arrived at the scene, ready to help the siblings out of the tight spot, she was careful and patient with the delicate little pups.
Ashleigh Pienaar/JWVH
Wright had constructed a kind of lasso to help pull the pups out, one by one.
It was just thanks to Wright that the pups could get the quick help they needed — rescue missions like this are made possible thanks to people who live in the region and care about wildlife. 
"We treat indigenous animals free of charge," JWVH explained on Facebook, "relying solely on the donations and support of our community."
Ashleigh Pienaar/JWVH
"As the mom had been spotted nearby, these pups were safely retrieved and released into a nearby area with thick shrubbery, where they were happily reunited with her," JWVH wrote.