BREAKING: Ringling Bros. Plans To Ship Its Tigers To German Circus
Ringling had its last show ever and it STILL won't let them retire.
Ringling Bros. and Barnum & Bailey Circus just held its last show ever on Sunday — but life could be getting even worse for the circus' tigers.
Feld Entertainment, the parent company behind Ringling Bros., has applied for a permit to ship eight of its tigers overseas to a circus in Germany instead of retiring them to a sanctuary, according to documents provided to The Dodo by the Animal Legal Defense Fund (ALDF).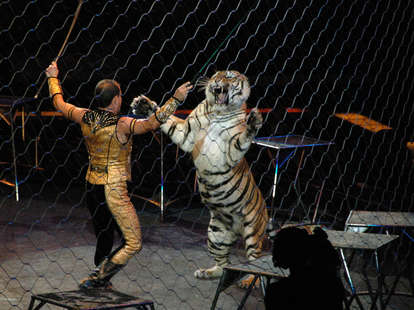 Shutterstock
Shutterstock
In the notice, Ringling claims the tigers would serve "to enhance the propagation or survival of the species," a requirement put in place by the U.S. Fish & Wildlife Service (USFW) to ensure endangered species, like tigers, are only shipped for conservation purposes. But according to ALDF, this requirement doesn't always receive the scrutiny it deserves.
"The U.S. Fish and Wildlife Service has historically taken a controversial 'pay-to-play' approach to the enhancement requirement, often rubber-stamping permits for objectionable uses of endangered species so long as the applicant makes a nominal donation to a conservation program," ALDF said in a statement. "It is well-established that use of tigers in circuses fails to educate the public and has no nexus to legitimate species conservation. In fact, many experts opine that the use of exotic animals for entertainment acts and other traveling shows is harmful to their wild counterparts."
An undercover report published last year described life as a "nightmare" for the tigers. They spent most of their lives packed into tiny cages in parking lots or behind buildings, devoid of water to swim in or room to run. Tigers are solitary, and this closeness led to frequent fighting — many tigers were covered in scars, and others had cracked paws or pressure wounds from living on the unnatural concrete.
Jay Pratte, an animal trainer with 25 years of experience who conducted the investigation, said he saw tigers display signs of mental distress, such as compulsively over-grooming themselves until their skin cracked or pacing their cages obsessively.
In the circus ring, tigers were trained using whips and prods, and their fear was palpable, according to Pratte. "When the goads or whips are raised, the cats flinch and shy back every time," he said. "The cats know only fear, dominance and punishment."
When Ringling's elephants were retired last year, they were sent to the circus's Center for Elephant Conservation in Florida, the controversial breeding and training ground where many of Ringling's alleged abuses took place. It's still unclear what life is like for the elephants there, or if they will continue performing in some capacity.
But now it seems the tigers' future is even more murky. If the permit is approved, the eight tigers will be sent to Zirkus Crone, a circus in Munich that's had its own share of abuse accusations — including claims that many of the circus' animals, similarly to Ringling, are suffering from arthritis and mental distress and are denied proper living conditions.
In a statement, ALDF said it "strongly opposes Ringling's effort to condemn these tigers to continued exploitation for 'entertainment' when there are humane options for the endangered animals." For now, the best hope is that public outcry will prevent USFW from approving the permit request — which will be open for public comment for 30 days beginning on Friday — and save the tigers from years of further performances.
"The curtain has come down on Ringling Bros. and an enlightened public is turning away from the outdated notion that it's acceptable to use endangered species as entertainment props," Stephen Wells, executive director of ALDF, said in a statement. "After spending years being carted around in cramped transport cages for 50 weeks of the year, it's time for Ringling and trainer Alexander Lacey to let these tigers live out their lives at a reputable sanctuary where they can experience the space, habitats and peace they need and deserve."