White Tiger Brings Her Favorite Toys With Her Everywhere
It's been a long journey, but Sapphire is finally home 💚
One adorably quirky thing that rescuers have learned about a white tiger named Sapphire is that she's obsessed with her big red and green toy balls.
New video footage catches Sapphire on camera as she's dragging the toys all over her new home with her, even dipping them in her personal swimming pool at the sanctuary she now calls home, Big Cat Rescue (BCR) in Florida.
Sapphire also enjoys running around her habitat with a pumpkin in her mouth, as well as scratching the top of her furry head on the branches of an old discarded Christmas tree.
"She is a very hyper tiger, always moving and full of energy," Susan Bass, director of public relations at BCR, told The Dodo. "She's a busybody too, always checking out what her tiger neighbors are doing and stalking them ... She loves her big red ball and will drape herself over it while trying to bite it. She also loves to splash around in her pool in her enclosure. She blows bubbles in her water dish."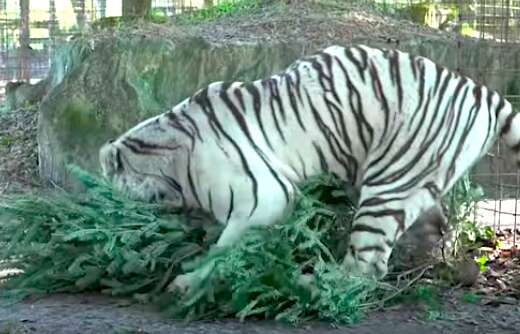 Life is full of all kinds of new pleasures for Sapphire now — but Sapphire wasn't always allowed to express her true nature so freely.
Sapphire's big personality might have never come to light if people hadn't fought to free Sapphire, along with several other big cats, from the roadside attraction where they were being kept in Ohio. This facility had racked up animal welfare and safety violations leading to the seizure of the big cats, and the facility's owner had claimed he'd rather euthanize the animals than give them up.
While her future was being decided in a courtroom battle, Sapphire was being kept at BCR — but secretly, for her own protection.
Even undercover, Sapphire made fast friends.
"When she arrived she immediately claimed our staff member/keeper Afton as her favorite person," Bass said. "She adores Afton. Afton stops by her enclosure every day to say 'hello.'"
Now that the court case decided that Sapphire and the other big cats rescued with her can stay at the sanctuary, more people have been able to get to know her.
But not everything about Sapphire is as heartwarming as her relationship with her toys and with her favorite caretaker — that's because white tigers aren't even supposed to exist in the first place.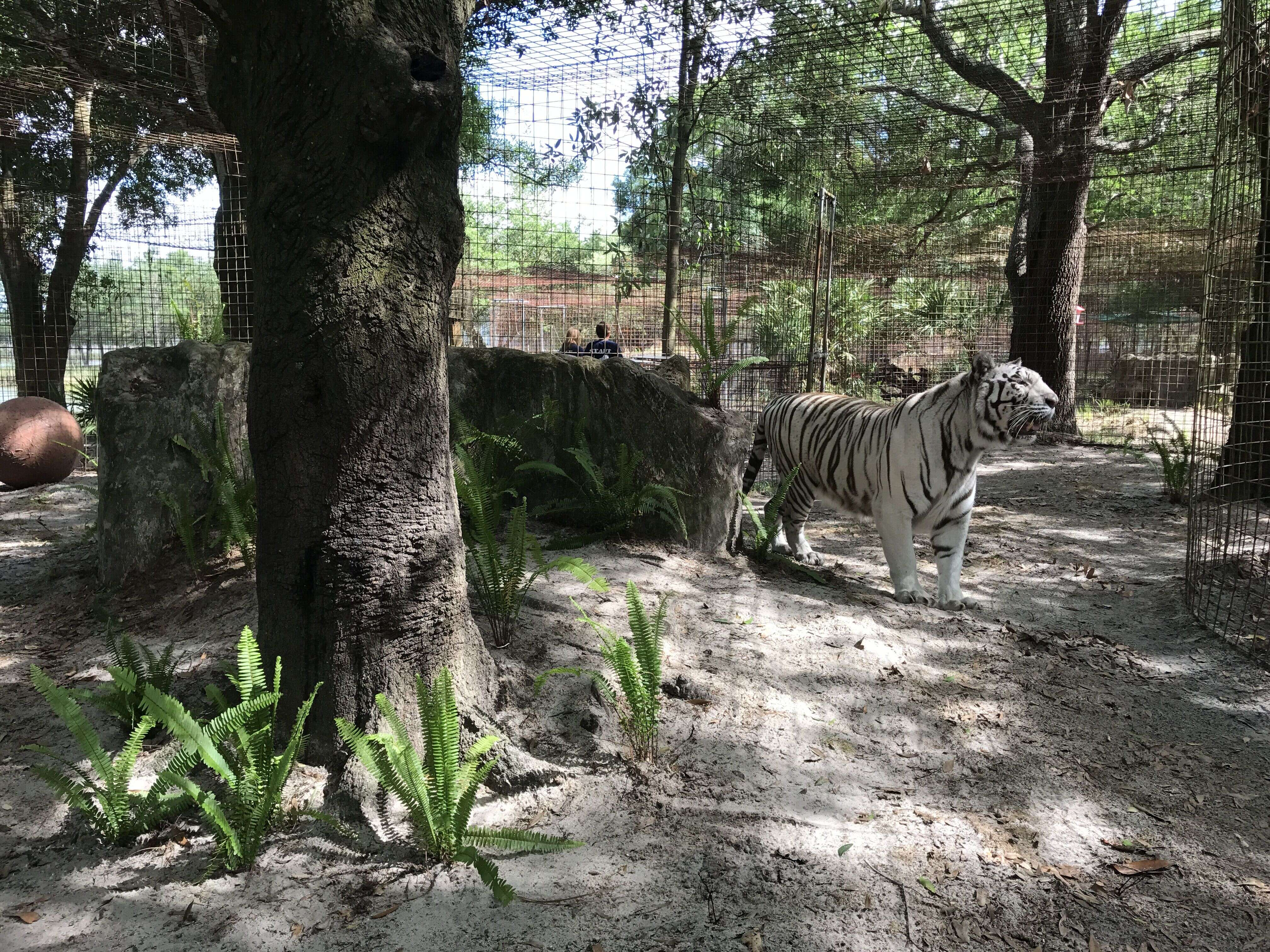 White tigers like Sapphire have been bred to have genetic mutations that make them white in color — but along with that comes a host of health problems that can sometimes be severe. These problems come directly from their breeding, which goes to show why white tigers don't naturally occur in the wild.
"She has crossed eyes like all white tigers, but her eyes are very noticeably crossed," Bass said. "Sadly, she sometimes attacks her own back legs mistakenly thinking another tiger has snuck up behind her [because she can't see properly]."
Bass said that Sapphire also seems to be afraid of big camera lenses — perhaps because of her memories from her days as an exotic attraction. Now, thankfully, Sapphire is seen as an individual rather than a photo prop — and she gets only the attention she wants.
Sapphire also has a bit of a quirky fear, adding to her unique personality: "She seems to be afraid of snakes," Bass said.
Thankfully, Sapphire won't have to worry about any unwanted visitors — human or reptile. Her caretakers are there to keep her safe — and, of course, give her all the toys she wants.
There are fewer than 3,900 tigers left in the wild, and many are being poached so their parts can be used in tiger bone wine and traditional medicine.
Project C.A.T.
is working to protect tigers for years to come by supporting nearly 2 million acres of protected habitat — part of a global effort to double the number of wild tigers by 2022.
Find out how you can help here
.