Baby Dugong Gives Huge Hug To The People Who Saved Her
"She's attached."
A baby animal found all alone on a beach has stolen the hearts of so many people since her rescue in Thailand.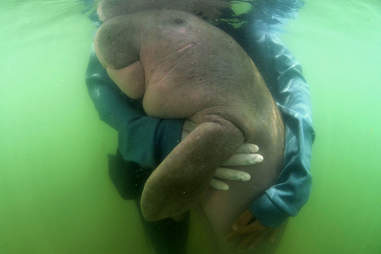 AFP/Getty Images
Mariam is a little dugong — a kind of marine mammal related to a manatee — and she has been snuggling up to her rescuers ever since she was saved earlier this year. 
YouTube/Dmcr Thailand
Mariam — who is just 5 months old and had become separated somehow from her mother — practices swimming in river water with her caretakers near the dugong habitat just off Ko Libong island, getting bottle-fed special milk and munching on the seagrass offered to her by her human companions.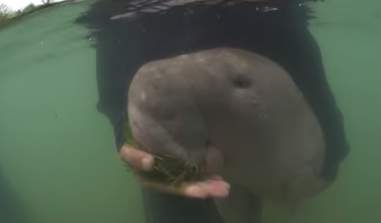 YouTube/Dmcr Thailand
"She's attached," Nantarika Chansue, director of the Aquatic Animal Research Center at Chulalongkorn University, told AP.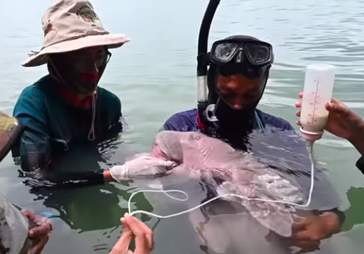 YouTube/Dmcr Thailand
"[She] tries to swim and cling to the boat as if it was her mother and when we are swimming she would come and tuck under our arms," Chansue said. "It's almost like the way she would tuck under her mother."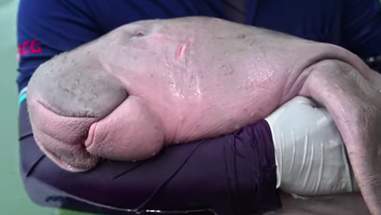 YouTube/Dmcr Thailand
Dugongs are considered vulnerable because of pollution and climate change, as well as threats from fishing boats and nets. Thankfully, Mariam has landed in very good hands. 
As Mariam becomes older, it will be important for her to let go of her human caretakers — but for now, comforting her and making sure she's happy and healthy is the first priority.