Baby Beaver Goes For A Walk By Himself And Runs Into A Little Trouble
Rescuers named him Timber — and he's very safe now.
When a baby beaver left his lodge at just 10 weeks old, likely for the very first time ever, he ran into a little bit of trouble. He met a dog who decided to catch him and bring him back to her owner.
When the dog's owner saw the baby beaver, injured and alone, she immediately called a rescue organization to see if it could help correct her dog's mistake. The Scottish SPCA responded to the call and collected the little beaver, then brought him to its National Wildlife Rescue Center. 
Scottish SPCA
Staff at the center decided to name the beaver Timber, and immediately set about feeding him and tending to his injuries. Due to Timber's age, his stay with the Scottish SPCA will be quite the extended one, even once his injuries have healed. He will likely be with them for two whole years.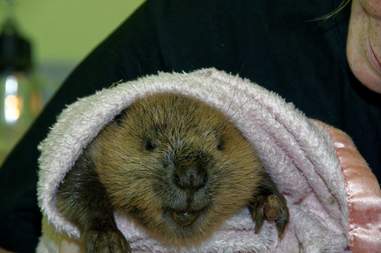 Scottish SPCA
"Timber is the first beaver kit we have cared for at our center in Fishcross so it's very exciting," Colin Seddon, manager of the National Wildlife Rescue Center, said in a press release. "He will remain in our care for up to two years as this is the length of time beaver kits stay with their parents in the wild. After this they are able to find territories and partners of their own. At such a young age he would have still been taking milk but has moved onto solid food in our care."
Scottish SPCA
While his stay will be a long one, little Timber doesn't seem to mind at all …
Scottish SPCA
… and has already made himself very comfortable in his new temporary home.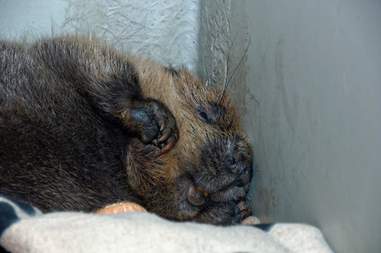 Scottish SPCA
"We'll release Timber back into the wild with the landowners' permissions along with the appropriate licenses once he is matured and ready," Seddon said.
To help other lost and injured animals like Timber, you can donate to the Scottish SPCA.