Rescued Pigeon Gets A Boyfriend Who Won't Let Her Out Of His Sight
People just caught them doing the most adorable thing.
No one knows exactly how Juliet, a satinette pigeon with distinctively soulful eyes and beautiful white feathers, fell on such hard times.
Perhaps she had been someone's pet, and she escaped from her home. Or perhaps she was sent away, banished and abandoned. In any case, by the time she was found on a sidewalk in Ontario, Canada, she had lost her ability to fly.
Wildlife Haven Waterloo
Wildlife Haven Waterloo
Luckily, she was brought to a local shelter and adopted by Wildlife Haven Waterloo (WHW), where she will always have a home. 
All this happened early this past summer. And as Juliet settled in, rescuers worried that she might be lonely. "Pigeons are highly intelligent and social birds who mate for life," WHW wrote.
And as fate would have it, Juliet would find love after all.
Wildlife Haven Waterloo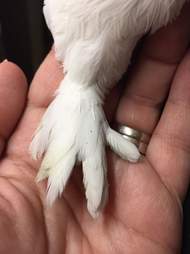 Satinette pigeons are known for their feathered feet, which add to Juliet's dignified look.

| Wildlife Haven Waterloo
A few months after Juliet's rescue, a WHW volunteer came across a male satinette pigeon who didn't have a permanent home. Juliet's rescuers knew immediately that it was destiny. "We couldn't believe we had found Romeo!" WHW wrote.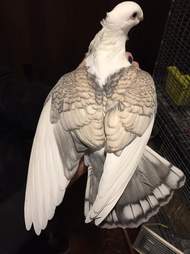 Romeo is a distinguished bird whose feathers are a handsome mix of gray, taupe and white.

| Wildlife Haven Waterloo
The birds, as predicted, immediately bonded.
"Romeo is so protective of Juliet, it is so sweet!" Joy Huggins, founder of WHW, told The Dodo. "He doesn't let her out of his sight!"
Romeo (left) and Juliet

| Wildlife Haven Waterloo
Unlike their namesakes, these two beloved birds have a bright future ahead of them — and it won't be just the two of them for much longer.
"We are excited to share that just last week, Joy made a surprising discovery while cleaning their enclosure — an egg! ... and then another!" WCW announced on Facebook. "The pair takes turns sitting on the eggs — it's almost like clockwork! Romeo has the day shift and Juliet the night."
Candling the eggs revealed that the baby birds are due to hatch on or around New Year's Eve.

| Wildlife Haven Waterloo
It takes 18 days of incubation for the eggs to be ready to hatch — which brings the due date to December 31, New Year's Eve.
"Can't wait to see tiny feathered feet!" Huggins said.
WHW
Update:Just one egg ended up hatching — and now Romeo and Juliet have a beautiful little baby bird of their own.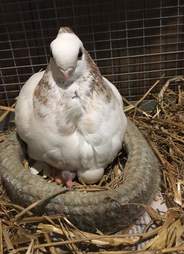 Wildlife Haven Waterloo
Wildlife Haven Waterloo
To congratulate Romeo and Juliet, you can
make a donation to WHW
, which rehabilitates hundreds of needy animals of all kinds every year.