For the first 15 years of his life, Rascal lived in a tiny cage in a basement. He wasn't being fed on a regular basis, and when he was fed, he was given only peanuts, which are not part of a healthy diet for a parrot. Birds of a Feather Parrot Rescue of New Mexico found out about Rascal and asked his family to surrender him. The family agreed, but told the rescue Rascal was mean and loud, and they didn't think anyone would want him.
As soon as Rascal arrived in their care, his rescuers realized just how wrong his family had been. While Rascal was timid and hesitant to trust, he was still incredibly friendly, and it seemed all he needed was the right environment in order to eventually thrive.
"The first day he came home he was quiet but friendly," Dorothy Newbill, director of Birds of a Feather Parrot Rescue, told The Dodo. "He went to his first vet visit and was treated for bacterial and yeast infections, malnutrition and ingrown feathers. Even being poked and prodded, he was being sweet and patient with us."
Rascal was in pretty rough shape when his rescuers first got him. He had self-inflicted open wounds from being so stressed out, and his feathers were dry, crispy and falling off. He had naked patches all over his body, and the poor bird just seemed so defeated. His condition didn't stop him from being sweet with his new rescue family, though, and as the days went on and Rascal began to heal, his incredible personality began to shine through more and more.
Now that Rascal has the space to fly around and be himself, he's finally learning how to be a bird, and is enjoying every minute of it. Over the nine months that he's been with the rescue, he's bonded immensely with another macaw named Rio. Rascal and Rio love doing everything together, and Rio has been critical in helping Rascal adjust to his new life by showing him how to do fun things like play with all his new toys.
"He has not been in a cage since he's been with us," Newbill said. "We take him places to socialize him and work on trusting us. Rascal has been such a joy to have; he loves to snuggle, giggle and is learning lots of new words. He's trying new foods and learning how to play like a macaw."
Rascal has so much more to eat than just peanuts now, and thanks to his healthy new diet, he's grown in lots of healthy feathers and has gained some weight. While he's come a long way, his condition was so dire when he was first taken in that he still has a ways to go. He's still battling a yeast infection, ingrown feathers and a vitamin deficiency, and his rescuers expect it will be a few years before they can start to consider finding him a forever home.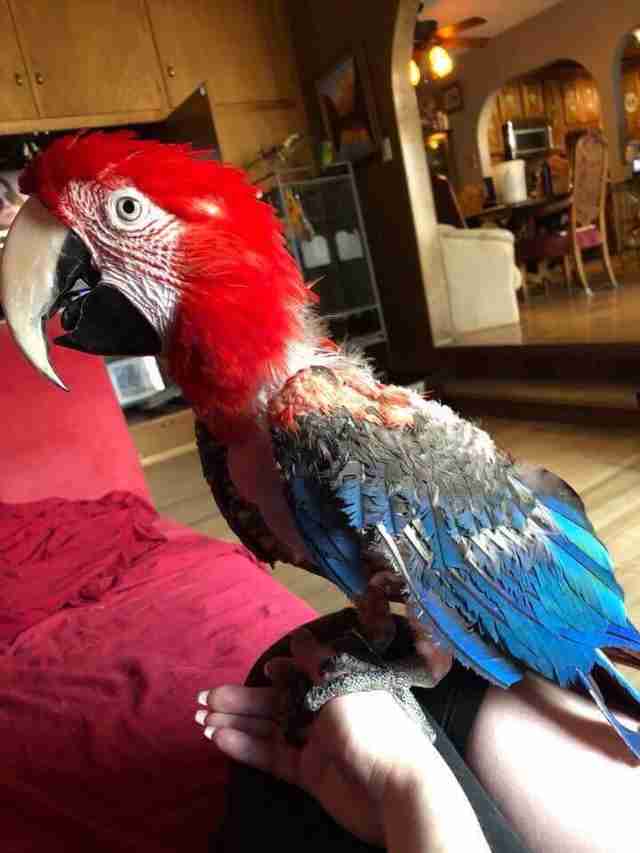 In the meantime, Rascal is thriving with his rescue family, and is so happy to finally be free from his tiny cage and in a place where so many people love him.
"Rascal is a joy. He doesn't hold grudges and is open to letting us love him," Newbill said.