Elephant Who Spent 50 Years Begging Always Hoped Life Would Get Better
He has a new life now (complete with swimming pool) and can't believe how lucky he is 💕
For 50 long years, Raju's life was filled with pain and loneliness.
Torn away from his mother and family as a young calf, Raju spent decades working as a begging elephant on the streets of Uttar Pradesh, India.
Every day, Raju's owner would sit on his back and trek him along the hot asphalt streets to drum up tips. A chain and spiked shackle continuously cut into his leg to keep him from running away. His body was covered in cuts and scars from being beaten with a bullhook, a sharp metal spear used to "train" elephants.
His only food was scraps thrown to him by passersby.
His life seemed like an endless cycle of abuse. But in July 2014, rescuers with Wildlife SOS decided to put an end to it for good. They had finally received a court order to win his custody, officially marking his new beginning.
As rescuers set Raju free from his chains and shackles, tears began to fall from his exhausted eyes. Life was finally getting better — after all that time.
"Raju became a symbol of hope for captive, abused elephants all over the world," Wildlife SOS said in a statement. "His spirit was all but broken, a testament to the ordeals he had been through."
Raju was brought to the Wildlife SOS rescue center, where veterinarians rushed to treat his leg, which had been seriously injured by the shackle. He was also suffering from severe malnutrition, foot ailments and painful abscesses on his shoulders and hips from his life being ridden on the streets.
That was four years ago — and now, Raju is so content living life as a free elephant. On Wednesday, the Wildlife SOS staff surprised him with a party complete with decorations, toys and treats to celebrate his rescue anniversary.
They filled boxes up with his favorite snacks for him to break open and enjoy. As he munched on a trunk full of popcorn, he closed his eyes in happiness.
He also spent some time relaxing in his pool and eating watermelons — treats he lived his whole life without.
"The most heartening part of Raju's rehabilitation has been his growing fondness of the pool," Geeta Seshamani, cofounder of Wildlife SOS, said in a statement. "This not only helps keep him cool, but also has the added benefit of taking some of the weight off his legs and joints."
After four years of love and companionship from his caretakers and rescued elephant friends, Raju is almost unrecognizable as the feeble, broken street elephant he once was.
He's been through so much in his life — but the rest of his years are destined to be sweet.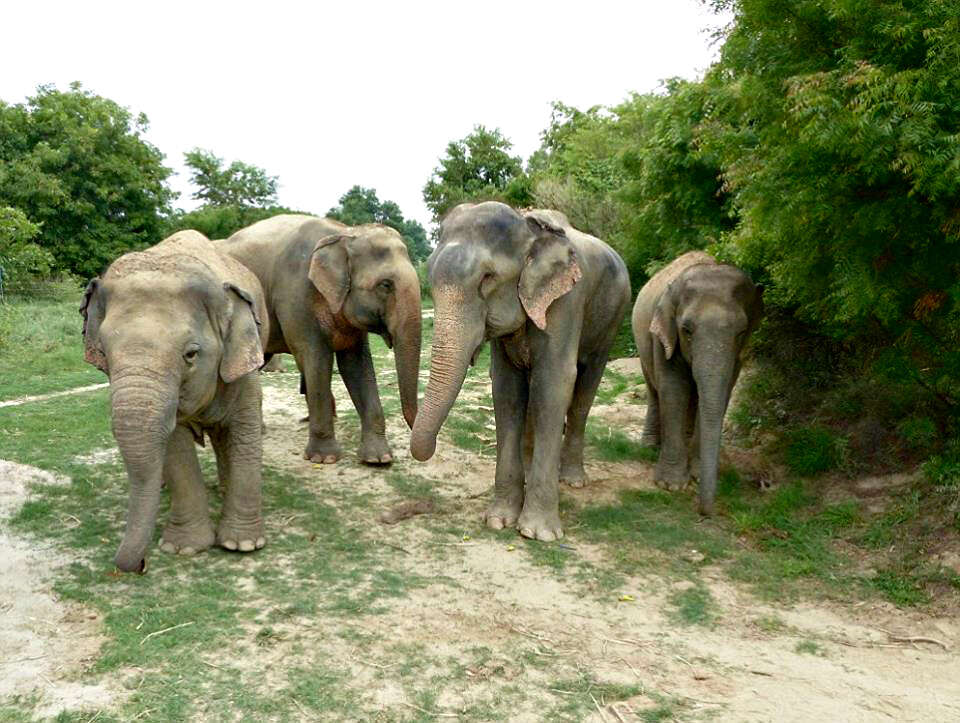 "I am in awe of his resilience," Dr. Yaduraj Khadpekar, senior veterinary officer for the rescue, said in a statement. "It has been an honor for me to watch Raju make this remarkable journey to recovery."