Guy Drove For Miles Without Realizing Someone Was Stuck In His Car
"It's a miracle that he's still with us. I can't wait to see him take off to the sky again."
In his many years of rescuing wildlife, Mark Hess had never seen an animal quite so lucky.
Last weekend, Hess, a rescuer with the Humane Animal Welfare Society of Waukesha, Wisconsin, responded to a frantic call from a driver who had unknowingly hit a red-tailed hawk with his truck while driving on the interstate.
But there was a twist: The hawk was lodged, tail-end first, in the grille of the man's truck — and had been hitchhiking there for miles.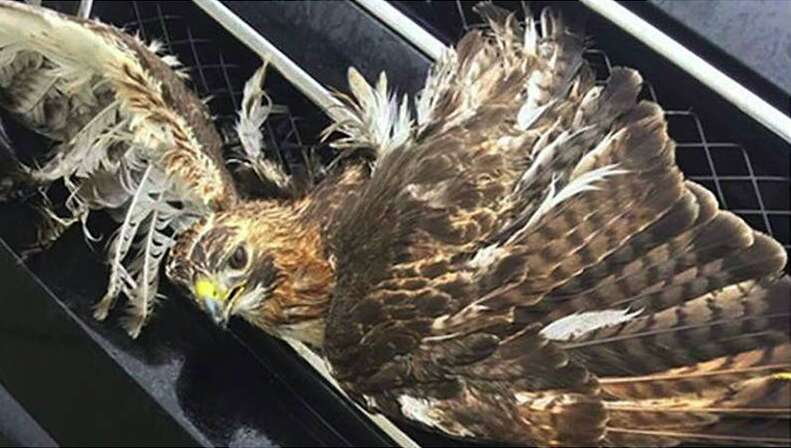 "The driver was going about 70 on the interstate and remembered seeing a hawk swoop in front of the truck," Hess told The Dodo. "He had no idea that he even hit him until he parked and saw the hawk stuck inside the grille with his wings sprawled out."
Hess showed up to the scene with a few tools — and prepared for the worst. In his experience, animals hit at that high of speeds rarely survive their injuries.
"The hawk was definitely in shock after what happened," Hess said. "It took maybe three or four minutes to cut enough of the grillwork out of the front of the vehicle."
Despite being prepared for the worst, Hess had a pleasant — and very unexpected — surprise: After removing the bird from the grille, he didn't appear to have any broken bones.
"Once he calmed down a bit, he was sitting upright using his legs just fine," Hess said. "He looked to be in really good shape considering what he had been through — especially getting hit at those speeds."
Hess loaded up the hawk and drove him to the Wildlife In Need Center, which took X-rays right away. The veterinarians confirmed Hess' prediction: The bird escaped the accident with absolutely no broken bones.
"Thankfully, he has no major injuries," Alex Schlecht, education coordinator for the center, told The Dodo. "We think he has some swelling going on from the impact of the accident, but overall, he's recovering very well."
The hawk, whom the center's staff has nicknamed "Griller," is on medicine and cage rest for the next few days as the swelling continues to go down. But so far, he is eating well and shows no signs of other health concerns.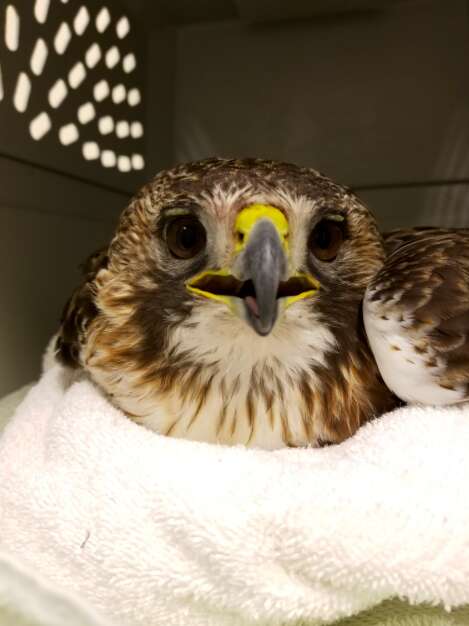 When Griller feels up to it, his rehabilitators will move him to a large covered enclosure with enough room for him to fly. This will give them a chance to watch for any red flags concerning his flight, Schlecht said.
"Right now, he's in a smaller enclosure that has a perch and an area for him to walk around in," Schlecht said. "After resting we'll want to give him more space to fly so we can make sure his flying endurance is still up to par. And at that point, we may also do a live prey test to ensure that he can still hunt on his own."
But based on how he's doing right now, Schlecht is confident that Griller will make a full recovery from the ordeal.
While it may still be a few more weeks until Griller is well enough to be released back to the wild, Hess is anxiously waiting for the day to come.
"I've had to help a lot of other animals who had been hit by cars who weren't nearly so lucky," Hess said. "It's a miracle that he's still with us. I can't wait to see him take off to the sky again."
To support the care of Griller and other rescued animals like him, you can make a donation to the
Wildlife In Need Center
.