Meet The Little Creature Inside This Incredible 'Stonehenge' Web
"Oh my God — it's hatching" 😱
This is Stonehenge, the mysterious and enormous rock structure in the countryside of England.
Shutterstock
And this is silkhenge, a delicate little structure small enough to fit on the surface of a leaf in the Amazonian jungle.
YouTube/The Jungle Diaries
Just imagine the surprise of the people who discovered this tiny mystery, a structure that, as it turns out, is built by a rare kind — or several kinds — of spider. (Scientists are still researching whether these works of art are built by one species or several.)
And imagine the surprise of researchers when they realized that the sometimes round and sometimes pointy structure in the middle of silkhenge was actually an egg.
YouTube/The Jungle Diaries
"Oh my God," Phil Torres, a biologist who has been studying this spider for several years, can be heard saying in a first-ever recorded video of this spider's birth, which was released in 2016. "Oh my God — it's hatching. Right. Now."
YouTube/The Jungle Diaries
Torres and his colleague, who were trekking around Ecuador to study jungle species, were the first people to ever witness what was in the middle of silkhenge actually hatch.
"Dude, it's coming out! This is so cool," Torres can be heard saying in the video. Another biologist, Troy Alexander, first discovered a silkhenge web in Peru several years before.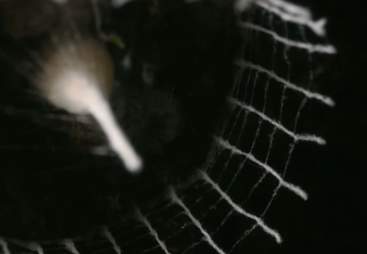 YouTube/The Jungle Diaries
Researchers are still studying the special spider inside this structure to this day — and they may have more clues to the mystery spider soon.
The Dodo briefly got in touch with Torres earlier this month just as he was headed into the Amazon again to investigate silkhenge and the creature who makes it.
Hopefully he'll emerge with some more amazing footage — and some clues.